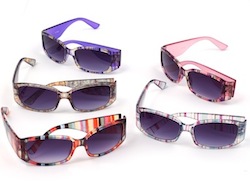 Snazzy Specs' Eye Catching Range Of Reading Sunglasses With An Eye-Watering 15% Discount For All Readers!
(PRWEB UK) 28 March 2012
As the weather hots up over the UK and abroad, and people flock to the seaside, Snazzy Specs, a leading online supplier of fashion reading glasses and reading sunglasses, has launched a timely new range of snazzy tinted sun readers for the 2012 spring and summer season.
Marie Coggin of Snazzy Specs says: "Last summer, our reading sunglasses proved to be so popular that we decided to greatly extend our range for 2012 so that both men and women will be able to find styles and colours to complement their beachwear. Holidaymakers like to make a fashion statement even whilst relaxing by the pool".
Snazzy Specs explains that sun reading glasses are glasses with tinted lenses that provide the perfect solution for those who want to read, or pursue other close up activities, in the sun. They are available with either fully magnified or bifocal lenses offering 100% UV polarised protection from the sun in magnifications from + 1.00 to + 3.50.
Marie says: "Most people pack their books, or Kindle, to take away on holiday and then find they struggle to read in the sun. Let's face it, for some people sunbathing is a complete bore, but reading your book in the sun is a different matter and we all probably want to return home with at least a bit of a noticeable tan. That's why we find that holidaymakers are now packing their reading sunglasses as 'a must', along with their books and playing cards".
Snazzy Specs reading sunglasses are available from only £16.99 but to get the holiday season off to an eye catching start, they are offering a 15% eye-watering discount to encourage potential buyers to 'like' their new Snazzy Specs Facebook Fan Page. "Just click on the 'Events' tab", advises Marie, "copy the voucher code displayed there and insert at the online checkout at our Snazzy Specs website for your instant 15% discount. Sit back and enjoy reading in the sunshine!"