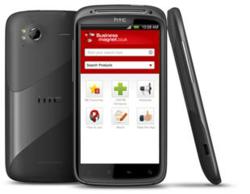 We have a solid technology improvement plan over the next 24 months, and there are many exciting upgrades due in the very near future
Stevenage, Hertfordshire (PRWEB UK) 28 March 2012
Following the success of the recently updated iPhone app the company has launched its first android app which is available to download now from the android marketplace for free.
Following a recent user survey conducted by the business directory, they found the increased requirement to deliver content to mobile devices and tablets.
The app provides extremely fast search results, a user friendly interface, highly detailed customer profiles, the ability to email customers directly from the app without the need for an additional mail app and an innovative add to contacts feature. Director Lee Cheesman said "As part of our ongoing technology strategy this new android app has all the features our customers need and is right on target. We have a solid technology improvement plan over the next 24 months, and there are many exciting upgrades due in the very near future."
The app, available for all android devices running 2.2 and upwards can be downloaded now for free from the android market place. Click here to visit the Businessmagnet android market place page.
More About Businessmagnet
Businessmagnet.co.uk is one of the UK's leading business to business directories. The online directory serves millions of visitors every month searching for business related products and services. The directory lists over 160,000 business to business companies cross referenced in over 70,000 individual product and service indexes.
If you own a business to business company and are based in the UK or Ireland, you can add your company to the directory for free, by clicking here. It's quick and easy to add your business and you can start receiving quality business sales enquiries in a matter of hours.