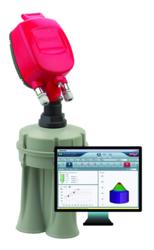 Companies in the grain, milling, mining, power, ethanol, chemical and food processing industries often have a purchasing condition for a device approved to Canadian hazardous location standards.
Lincoln, NE (PRWEB) March 29, 2012
BinMaster Level Controls announces the 3DLevelScanner has received FM approval to Canadian standards (cFMus) which allows installation of the 3DLevelScanner in potentially explosive environments. The 3DLevelScanner is listed for FM Approval to Class I, II Division 1, Groups C, D, E, F, and G. It meets Canadian standards CAN/CSA C22.2 No. 25 (1966), CAN/CSA C22.2 No. 157 (1992), CAN/CSA C22.2 No. 1010 (2004), and CAN/CSA E61241-1-1 (2002). These new approvals enable customers in Canada who require hazardous location approvals to safely install the 3DLevelScanner in their facilities.
The 3DLevelScanner measures and maps multiple points in the bin, calculates a highly accurate volume estimate and has the ability to visually map the topography of the bin material. "Many of the bin volume measurement challenges addressed by the 3DLevelScanner are for powders and bulk solids in volatile environments," stated Todd Peterson, vice president of sales for BinMaster. "There was a market need to certify to Canadian safety standards to address the demands of customers in the grain, milling, mining, power, ethanol, chemical and food processing industries where often a purchasing condition is a device approved to Canadian standards."
About BinMaster
BinMaster is a division of Garner Industries– an ISO 9001:2008 certified company established in 1953 and headquartered in a 75,000 square foot manufacturing facility in Lincoln, Nebraska, USA. BinMaster is strategically focused on designing, manufacturing and marketing reliable, proven sensoring devices for the measurement of bulk solid and liquid materials for the feed and grain, food, plastics, pulp & paper, power, mining, and concrete industries. The BinMaster product line is sold worldwide and features many diverse technologies for bin level indication and measurement, being well known for its SmartBob2 and 3DLevelScanner advanced inventory management solutions. For more information about BinMaster, visit http://www.binmaster.com.