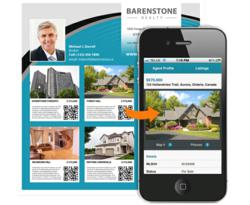 QR Codes in property listings enable interested parties to take action immediately upon seeing an ad, turning those lingering viewers into potential buyers.
Toronto, Ontario (PRWEB) March 29, 2012
Sitomic introduces all-in-one QR Code Marketing for Real Estate. The platform offers a complete set of tools to create mobile-optimized sites, run multiple QR Code campaigns and track visitors from individual print sources. All accounts start with a 7-day free trial and can be used on a flexible, pay-as-you-go basis.
In the real estate industry, QR Codes can add substantial value to print advertising. QR Codes can be scanned to view additional property photos, map the listing, or share it with friends and family via email and social networks. Mobile technology enables interested parties to take action immediately upon seeing an ad, turning those lingering viewers into potential buyers.
Creating a QR campaign with Sitomic takes as little as 10 minutes and only requires a valid email address to start. The process consists of two steps: creating a mobile site and setting up a QR Code tracking component.
Mobile Sites can be customized with 30+ designs and include an agent profile page, unlimited property listings with HD image galleries, mapping function for each listing, and a social sharing component. All sites have been optimized for minimal loading times while maintaining superior image quality and visual appeal. Photo galleries support high-definition images that look sharp on all devices with HD displays, such as iPhone4.
The QR Code tracking component is used to generate print-quality QR Codes and monitor visitor traffic across multiple campaigns. For example, an agent can generate two distinct QR Codes – one for a newspaper ad, and one for a magazine feature. Sitomic QR Code manager will report the number of website visits brought by each advertisement. The ability to track individual ads gives the insight on how multiple ads are performing against one another.
Sitomic QR Code campaigns can be run for as little as one month and terminated until needed again. Sitomic doesn't require any personal or credit information to maintain an account. All payments are handled by PayPal, a safe and secure online transaction system.
About Sitomic
Sitomic.com is a Mobile Marketing Platform that allows businesses to create professional mobile landing pages and launch QR Code Marketing campaigns all in one go. With a friendly user interface and easy-to-use tools, Sitomic is a perfect solution for anyone regardless of their design knowledge or computer skills.