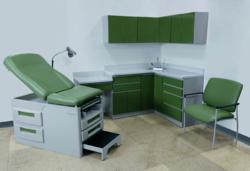 Not every facility can spend $900 for each patient chair.
Milwaukee, Wisconsin (PRWEB) March 28, 2012
National Business Furniture (NBF) has made a diverse and extensive grouping of healthcare furniture products available through Attainia, a recognized resource for the planning and development of healthcare facilities.
Architects, planners and designers use Attainia's web-based software program to plan, allocate funds and oversee capital installations in hospitals and medical facilities. The software integrates with CAD programs used in facility design, allowing budget-impacting decisions to take place earlier in the planning process.
Joanna Terry, NBF Healthcare Sales Manager, explained that offering specialized furniture at a mid-tier price gives planners an affordable choice for their facilities. "Not every facility can spend $900 for each patient chair," she said. She added that NBF also offers a quicker turnaround time because they represent products from a wide variety of manufacturers.
"NBF can provide a unique value proposition that is currently lacking in the healthcare market," said Dean Stier, Vice President of Marketing, "Finally, healthcare facilities have a source for affordable furniture through NBF."
NBF has been a leading mid-range office furniture provider to U.S. businesses and institutions for over 35 years, and is now extending its well-known service and selection into the healthcare market, with offerings in patient and exam room furniture, bariatric seating, carts and accessories.
According to Randy Farah, Vice President of Merchandising, NBF established a foothold in the healthcare market over the years, providing hospitals and clinics with furniture from their standard business offerings: office desks and chairs, reception seating, conference and training room furniture, breakroom furniture, filing, storage and accessories.
"The healthcare category has been a good one for us all along, but customers wanted a wider selection of products. We've added more exam and patient room products and accessories to meet their needs," said Farah.
"We are pleased to have NBF's broad range of healthcare furniture lines available for Attainia users," said Anil Singhal, M.D., Attainia's Vice President of Supply Chain Services, "Now planning and design firms, architects, and healthcare administrators have easy access to clinical and administrative furnishings at their earliest points of project planning."
While NBF is no stranger to new construction and large furniture installations, it also welcomes the opportunity to serve smaller facilities and projects with limited budgets. Those who use Attainia's software will now have access to the NBF selection.
###
About National Business Furniture
National Business Furniture was founded in 1975 and is a leading provider of office furniture to large and small businesses, government institutions, healthcare facilities and educational organizations. Guided by the vision "Furniture that Works. People who Care." NBF provides exclusive products, fast shipping, expert service and a lifetime guarantee to thousands of loyal customers.
In 2006, NBF was acquired by K+K America, LLC, the leading group of business-to-business direct marketing companies in North America. For a free catalog, or to browse the complete selection of office furniture such as desks, chairs, file cabinets, bookcases and reception furniture, visit http://www.NBF.com