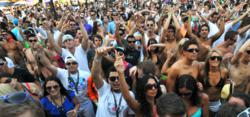 Events such as the Miami Music Conference are always good for business
London. UK (PRWEB) March 28, 2012
Customers of Private Jet Central have flown in record numbers to the Winter Miami Music Conference. One of the music industry's most prestigious events began on March 16th and was scheduled to last for 9 days. This years' conference is expected to break all records with around 100,000 people expected to attend more than 400 separate events, parties, workshops and seminars.
Some of the highlights of this years' WMC have include the South Beach Sessions, VJ Challenge, demo listening workshops for emerging talent, seminars and panels from leading music industry figures covering topics such as revenue streams, online retailers, club culture and audio technology. While for some the WMC is a serious event and opportunity for the majority of people attending it is a chance to let their hair down in the sun. The clubs and beaches of Miami have been packed from dusk to dawn and beyond with revellers from around the world.
The MD of Private Jet Central has said "As usual the music conference in Miami has proved to be a big attraction for our customers". He added "Events such as the Miami Music Conference are always good for business". As Miami is around 4,400 miles from London there has been a significant rise in the demand for super mid jets and heavy jets such as the Legacy 600 and jets in the Gulfstream class. These are the only private jets with the necessary range to fly to Miami direct from London.
People wishing to take fly private jet from London to Miami or thousands of other destinations round the world can visit the Private Jet Central website. With more than 10,000 aircraft available and round the clock access to dedicated flight consultants PJC offer a personal and professional service to both business and pleasure travellers. All flights are fully customisable and can be booked via the website.
About Private Jet Central
Private Jet Central is a global jet charter company with offices in the United Kingdom, United States and the Middle East. Founded in 2001 they offer a range of jet charter services to business and pleasure users in the UK and Europe. With over 10 years' experience in the jet charter industry they are ideally placed to meet their client's requirements. More information on the full range of services offered by Private Jet Central is available from their website at http://www.privatejetcentral.com/ and also by contacting any of their offices by phone or via e-mail.