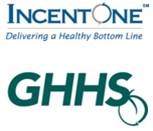 Lyndhurst, NJ and Atlanta, GA (PRWEB) March 28, 2012
IncentOne, the leading provider of incentive solutions to the healthcare community, and Georgia Hospital Health Services, Inc. (GHHS), a subsidiary of the Georgia Hospital Association (GHA), have entered into an exclusive partnership to deliver incentive programs to GHA member hospitals and other interested stakeholders. The Program, called "Provider Rewards" targets four initiatives critical to impacting a hospital's bottom line:

Rewarding hospital staff (providers/employees/residents) for operational and quality performance programs such as patient safety, infection control, preventing never events, facilitating checkout, HCAHPS, patient satisfaction, minimizing readmissions, and meeting credentialing standards.
Rewarding hospital employees in internal health and wellness programs.
Rewarding patients to take responsibility for their care such as adherence to post-discharge protocols.
Rewarding patients for using hospital services such as health and wellness centers.
The Program enables Georgia hospitals to align incentive spending to activities and outcomes that impact quality measures, patient satisfaction scores, cost drivers and revenue opportunities. The Program also offers options to reward patients for activities that impact a hospital's payment stream and potential denial or reduction in fees under the current reform environment. The Program can be extended to offer various payers – such as Medicare, Medicaid, governments, employers and private payers - a mechanism to drive provider behavior and to administer pay for performance programs.
"With health reform, it is critical to engage both patients and providers to change their behavior," said Michael Dermer, President and CEO of IncentOne. "Whether it is infection control, potentially avoidable events, readmissions, ACO protocols, or engaging patients, incentives can help provider organizations align spending with return on investment."
"We often say that until the incentives in the healthcare system are realigned to drive quality and not quantity, the health system will suffer," said Glenn Pearson, FACHE of GHHS. "By rewarding patients and providers for actions that benefit both them and our hospital organizations, we have taken a major step in creating this alignment.
About IncentOne
IncentOne delivers cost savings and health improvement by engaging healthcare consumers and providers through the use of incentives. IncentOne serves customers representing more than 75 million lives, has processed 30 million health transactions and driven 20 million health milestones through 125 data partners. IncentOne's Universal Remote™ technology enables customers to drive "any action for any value for any reward via any medium" and to align incentives not only to long-term savings but also to immediate and intermediate savings via its Trifecta™ methodology. IncentOne's solutions are married with leading-edge strategies such as value-based benefit design, medical homes, accountable care organizations, telehealth, pay-for-performance and provider payment reform to deliver true engagement. IncentOne programs target consumers to improve utilization, increase prevention, avoid hospitalizations, reduce readmissions, choose lower cost providers, reduce health risks, increase medication adherence and steer benefit selection and providers to adopt e-prescribing and EMR technology, adhere to treatment protocols, and improve patient safety. For more information go to http://www.IncentOne.com.
About Georgia Hospital Health Services, Inc. (GHHS)
Georgia Hospital Health Services, Inc. (GHHS) is a wholly owned subsidiary of the Georgia Hospital Association. GHHS was founded in 1989 for the purpose of partnering with companies to provide products and services at a discounted rate and/or with added benefits to member institutions. GHHS evaluates all of its potential vendor partners through a due diligence process and will only partner with those companies and programs that are of a high quality, provide the exceptional benefit to members and fit within GHA's strategic plan.
The Georgia Hospital Association is a nonprofit trade association made up of member health systems, hospitals and individuals in administrative and decision-making positions within those institutions. Founded in 1929, GHA serves 170 hospitals in Georgia. Its purpose is to promote the health and welfare of the public through the development of better hospital care for all of Georgia's citizens.
# # #