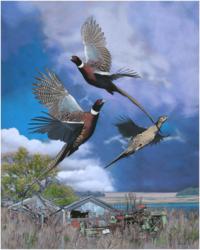 These are things I grew up doing, so it's nostalgic for me to go back and paint these scenes.
Watertown, SD (PRWEB) March 29, 2012
In early April, wildlife artist Joshua Spies will begin work on 2 new pieces of art. Fans will be able to follow his progress from blank canvas to completion of each project on his Facebook page.
"We've had a lot of people show interest in something like this," Spies said. "This is the perfect time to give it a shot."
Each new subject is a commissioned piece of artwork and both feature hunting scenes in Spies' home area in Northeast South Dakota.
"I don't paint portraits very often, but both of these pieces will be a portrait of some sort," Spies commented.
One will show brothers as children hunting pheasants together. The other is of a grandfather and granddaughter deer hunting.
"The traditions of hunting in this area are passed down from one generation to the next. Hunting is a family activity around here," said Spies. "These are things I grew up doing, so it's nostalgic for me to go back and paint these scenes."
By visiting Spies' facebook page at facebook.com/joshuaspies, fans can watch these pieces of art come to life as they are being formed.
For more information about Joshua Spies, please visit http://www.joshuaspies.com
About Joshua Spies:
Joshua Spies is an international award-winning artist from Watertown, South Dakota. He earned his fine arts degree at South Dakota State University and has traveled the world observing and photographing wildlife. Joshua has been a finalist in the Federal Duck Stamp competition five times and won the competition in 2008. The fall 2006 Wildlife Art Magazine named Joshua one of the top 16 wildlife artists, and Dallas Safari Club announced Joshua Spies as the winner of their prestigious 2007 Artist of the Year. Joshua's most recent award was being named the 2011 Safari Club International Artist of the Year. A dedicated conservationist, Joshua is a life member of the Foundation for Wild Sheep, the Rocky Mountain Elk Foundation, Pheasants Forever, Safari Club International, Ducks Unlimited, Dallas Safari Club, and ISHA. He is also a member of Grand Slam Club, Whitetails Unlimited, Mule Deer Foundation, Delta Waterfowl, and the NRA.