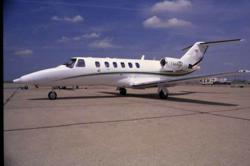 We are pleased to introduce any changes that can add to our service on this route and this includes the type of jet we use
London, UK (PRWEB) March 29, 2012
Customers of Private Jet Central can now enjoy several improvements to one of the most popular routes in its flight plan. Customers can now book flights to Moscow online in minutes as well as having the option to choose from a wider range of aircraft. Over the last 12 months a distinct trend has emerged in the private jet industry. Customers while still wishing to retain the benefits of flying privately wish to add value to their experience.
As a result the experience of PJC has been an increase in the number of flights in smaller jets such as the Citation Mustang, Citation CJ+2 and the Learjet 45. These have come with a reduction in flights of the bigger and heavier jets such as the Gulfstream. The Managing Director of Private Jet Central has said "Moscow is one of our most popular destinations at all times of the year". He added "We are pleased to introduce any changes that can add to our service on this route and this includes the type of jet we use".
As Moscow is around 1,552 miles from London it is well within the range of the majority of jets within the Private jet Central fleet. However over the past 12 months there has been a definite shift to the smaller more economical jets in the fleet. This reflects the growing desire for value whilst still retaining the advantages that private jet flight brings. While political relations between the two countries have been somewhat frosty following the Litvinenko incident it is business as usual in other areas. Trade is booming between the two nations and a series of cultural and sporting events are expected to attract record numbers of UK tourists to Moscow this year.
People wishing to take fly private jet from London to Moscow or thousands of other destinations in Europe or around the rest of the world can visit the Private Jet Central website. With more than 10,000 aircraft available at any given time, 24/7 access to dedicated flight consultants Private Jet Central offer an extremely personal and professional service to both pleasure and business travellers. All flights can be customised to meet a range of requirements and can be booked via the website.
About Private Jet Central
Private Jet Central is a global jet charter company with offices in the United Kingdom, United States and the Middle East. Founded in 2001 they offer a range of jet charter services to business and pleasure users in the UK and Europe. With over 10 years' experience in the jet charter industry they are ideally placed to meet their client's requirements. More information on the full range of services offered by Private Jet Central is available from their website at http://www.privatejetcentral.com/ and also by contacting any of their offices by phone or via e-mail.