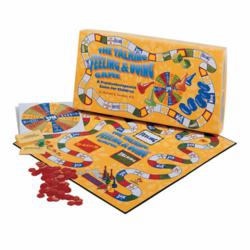 Woodbury, NY (PRWEB) March 30, 2012
The Guidance Group announces their therapeutic and counseling resources are now available on Amazon.com, the world's largest online retailer. Counselors, teachers, therapists, and parents can now purchase Childswork/Childsplay, Courage To Change, and The Bureau for At-Risk products using Amazon's familiar and trusted site.
Some stand out items include:
The Talking Feeling Doing board game, a perennial favorite among counselors and educators. First published by Richard A. Gardener M.D., it is one of the most popular counseling tools used with children in therapeutic settings.
Stop Relax & Think is another popular board game, used to teach active, impulsive children to learn motor control, relaxation skills, and how to express their feelings and solve problems.
Also available are a variety of BINGO games addressing such topics as: Bully Prevention, Communication Skills, Coping Skills, Harassment Prevention, Alcohol Prevention, Smoking Prevention, Drug Prevention, and many more.
The Guidance Group is a publishing company specializing in hands-on materials for drug and violence prevention, character education, life skills, school success, and mental health. The company offers over 5000 proprietary publications and other products, many of them national and international award-winners, including multimedia programs, DVDs, curricula, information handouts, therapeutic games, prevention-awareness giveaways, and more.