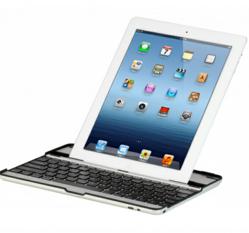 (PRWEB) March 29, 2012
Working on an iPad just got a whole lot easier for the user who simply doesn't want to be slowed by touchscreen typing while generating documents or performing other activities that take more than a few keystrokes.
The new iPad 3rd gen and iPad 2 Bluetooth Multimedia Keyboard Case from Hipstreet turns the wildly popular tablet into a portable office. Users can easily send emails, surf the Internet or create documents with the ultra-thin wireless Bluetooth keyboard, which boasts a range of approximately 30 feet.
The responsive keyboard is a breeze to connect and use, it supports the iPad in either the portrait or landscape positions, ideal for hands-free facetime chat, watching movies or tv shows.
Hipstreet's keyboard doubles as a carrying case, providing sleek-designed protection for the iPad. The integrated, long-lasting rechargeable lithium battery, provides many hours of use. The LED indicator lights show users charging and connectivity status. The keyboard case automatically wakes and sleeps the iPad. Remove the iPad from the case and it automatically wakes, place it back in the case, it goes to sleep.
The aluminum construction is lightweight and exceptionally durable. Hipstreet's Bluetooth Multimedia Keyboard Case for the new iPad 3rd gen and iPad 2 will be available in stores mid april.
Started in 2002, Hipstreet specializes in consumer electronics. Based in Ontario, CA, Hipstreet partners with more than 6,000 retail outlets throughout the world, with a focus on markets in North and South America as well as the Indian subcontinent. Hipstreet products are available at Hipstreet.com, through retail outlets, including online retailers, mass merchandisers, electronics superstores, office superstores, home-shopping networks, major distributors and independent retailers.