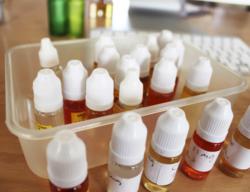 Creating a new flavour is exciting business and to make the thirteen E Liquid flavours we currently have took us over three months
(PRWEB) March 28, 2012
The past couple of weeks have been an exciting time for this new London based e liquid start up. They have had a fantastic amount of enquiries and interest in their new product range from both locally and abroad. They are one of the few producers of E Liquid based in the UK and only source their ingredients from the EU. Using only the best ingredients is a key to their early success, like pharmaceutical grade nicotine and pure flavour extracts.
Many e liquid producers have ranges of up to a couple of hundred flavours, but T-Juice has kept their range to a cool thirteen to ensure flavour quality and control. Their ethos is to grow the flavour range organically driven by personal favourites and customer input. They offer juice in nicotine levels ranging from none up to 33mgs which caters for the hard core faction. Now they are looking to add another flavour to their range and have decided to choose it by running an online customer poll.
"Creating a new flavour is difficult business and to make the thirteen e liquid flavours we currently have took us over three months. Producing new flavours takes a long time because you have to find trusted suppliers that are able to deliver what is required. Then there can be issues with supply as flavour extracts take a lot of product to create and sometimes they run out, so a backup plan has to be in place. We will run an online poll so that our customers have the power to vote for the new T-Juice flavour. The relationship with our customers is so important to us," commented Nigel Richards of T-Juice.