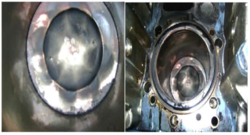 Testing proves the ability to produce electricity while greatly reducing diesel consumption and decreasing emissions
Barrington, IL (PRWEB) March 28, 2012
EcoloCap Solutions Inc. (OTCBB: ECOS). Robert Egger, EcoloCap Chief Operating Officer supervised the installation of our NPU-10 (10 metric tons of M-Fuel/24 hour) as well as the first two months of testing. States Mr Egger: "The testing in Degan, Chile, allowed for EcoloCap to demonstrate M-Fuel's ability to produce electricity at a live diesel power generation station while greatly reducing diesel consumption and decreasing emissions.
EcoloCap's M-Fuel is a stable emulsion of typically 70% diesel, 28% water and 2% of EcoloCap's proprietary additive which is a stabilizing, non-polluting chemical. M-Fuel is produced utilizing our Nano Processing Unit (NPU). The product, which we call M-Fuel, is a robust liquid emulsified fuel, with superior combustion, reduced emissions and identical handling characteristics as the original diesel. M-Fuel is fully forward and backward compatible and requires no modification to the engines.
M-Fuel burns at a cooler temperature than the preprocessed diesel. This reduction in temperature results in cooler exhaust gases and the diesel engines turbo chargers operate at cooler temperatures, thus allowing the operator to run the generators longer, or produce more energy for shorter periods of time. Explained: Diesel generators are operated at a maximum of 75% of their capacity, rated load is factored at how much electricity can be produced at a maximum of 1 hour of operation. A typical 1.8MW generator will only be tasked to produce 1.25 MW for about 10 hours before it needs to be shut down because of the heat produced under load during power generation. As the M-Fuel burns 10-12% cooler than standard diesel due to the conversion of water into steam the running time is then stretched to additional hours, or the generator may be push up to between 1.35 -1.45MW for shorter periods. This factor makes it possible to produce additional electricity for shorter intervals or operate the generators for longer periods.
Another benefit of M-Fuel is that it burns completely in the combustion chamber, eliminating carbon build up and "hot spots" that cause pre-detonation and particulate matter to break free and create friction in the moving parts of the motor. This factor contributes to longer engine life and less maintenance between rebuild cycles. After just 100 hours of operation with M-fuel we found evidence that the fuel was actually removing carbon deposits and cleaning the combustion chamber. The test engine was an MTU 16V4000 with over 10,000 hours of operation. When the head was removed and examined, we found evidence that the fuel was improving the condition of the combustion chamber. The engine also appeared to operate smoother.
A third benefit found during our testing is the obvious reduction in emissions. Although there was no equipment available to monitor the exhaust for levels of NOx and SOx, it was obvious from the stacks that there was no black smoke emitted during operation and a total lack of carbon in the combustion chambers. Full emission tests have been previously conducted on other engines and there is no reason that previous results will not remain consistent.''
About The Company: EcoloCap Solutions Inc. (OTCBB:ECOS) and its associated company K-MBT Inc., are focused on technology companies that utilize advanced nanotechnology to design, develop, manufacture and sell alternative energy products. http://www.EcoloCap.com.
Forward looking statement:
This press release may contain statements of a forward-looking nature regarding future events. These statements are only predictions, and actual events may differ materially. Please refer to documents that EcoloCap Solutions Inc. files from time to time with the Securities and Exchange Commission for a discussion of certain factors that could cause actual results to differ materials from those contained in the forward-looking statements.
Contact:
Investor Relations:
Tel: 514-402-2538
nada(at)capitalsituation(dot)com
EcoloCap Solutions Inc.
1250 South Grove Avenue, Suite 308
Barrington, Illinois 60010
866-479-7041
Info(at)EcoloCap(dot)com