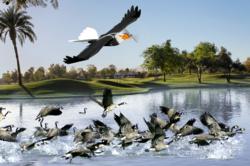 You won't have any ducks. They hate that thing!
Chicago, IL (PRWEB) March 27, 2012
Last month, at the GCSAA (Golf Course Superintendents Association of America) Convention in Las Vegas, Bird-X presented a revolutionary remote control system that eliminates pest birds from challenging outdoor areas – particularly golf courses.
The convention was attended by over 6,000 golf course superintendents from around the world, all looking for the latest technology and solutions to help improve their courses and cut costs. The BirdXPeller Remote Control Drone was one of the most intriguing items, sparking all kinds of attendee questions. Talking to a few superintendents in Southern California who have been using the service at their golf courses, we are able to learn more about the system in-use and how this product really works.
The BirdXPeller Remote Control Drone is a remote-controlled predator replica and a sonic repeller. It swoops down from the sky, projecting recorded alert and alarm bird calls to create a multi-sensory attack that conditions pest birds to avoid an area. Course superintendents tell us that the realistic audio is what really sets this system apart from other bird control methods. The device must be operated by a certified flyer, and the service is contracted between that flyer and the golf course.
To watch a video of the BirdXPeller Drone in action at a golf course, click here.
For Rick Sall, at Toscano Country Club in Indian Wells, California, the BirdXPeller Drone has been a great addition to his arsenal of bird control methods. Rick's course is home to a variety of pest bird species, including wigeons, ring-necked ducks, gadwalls, coots and geese. The pest birds leave droppings, which can create health issues when the balls roll through the mess. They also eat the grass down so low that it doesn't need to be mowed – but as Rick explains, "you want some taller grass around the edge of your lake so the ball doesn't just roll in."
At Toscano Country Club, the flyers come daily to scare away the pest birds. Rick has seven lakes on his course, and he is actually using one as an 'indicator lake' right now. The lake is on undeveloped land with hills that are not yet built. He intentionally has the flyers avoid that lake. There are currently nine species of duck on that 'indicator lake' while the other six lakes have no ducks, proving that the BirdXPeller Drone is doing its job quite well.
However, Rick explains that the coots are a different story. They are more stubborn than all the other pest birds; therefore bird control efforts to repel coots should be more aggressive and may require additional methods to achieve the highest probability of success. "But you won't have any ducks!" Rick says. "They hate that thing. Any kind of game bird – pintails, ring-necks, wigeons, gadwalls, scops, teals, and the geese. Oh, the geese hate it!"
At The Hideaway Golf Club in La Quinta, California, Superintendent Gerry Tarsitano manages a 36-hole golf course. Gerry's course deals mainly with American wigeons and coots. He estimates that the pest birds were costing his course between $10,000 and $15,000 per year in labor, cleanup, repairs, re-sodding and re-seeding. Not to mention that he was receiving daily complaints from members.
The Hideaway Golf Club started using the BirdXPeller Drone service in January. The flyers come mid-morning, five days a week. Gerry claims that there has been a 75% reduction in pest bird population on his course, and he has heard nothing but good things from members about the improved condition of the course.
We also spoke with Golf Superintendent Cory Bell, at the Citrus Club in La Quinta, California. His course was spending about $50 per day, five days a week to clean up pest bird messes. He started using the BirdXPeller Drone service in 2009 and has been extremely satisfied with the results. The flyers come five days a week for about an hour-and-a-half per day, and it has almost completely solved the bird problem. All of the superintendents agree that the coots are not always as easy to deter as the other pest birds, but overall, the BirdXPeller Remote Control Drone is a worthwhile investment for any golf course experiencing pest bird infestation. In fact, Cory Bell tells us he would "without a single solitary doubt recommend this service to other golf courses."
To find out more about the BirdXPeller Remote Control Drone and how to contract this service for your golf course, contact Josh Pierce at Bird-X at Josh(at)bird-x(dot)com or 312.226.8784.
About Bird-X
Bird-X is the leader in producing humane pest and bird repellent products, since 1964. We offer the most comprehensive line of bird control products that are humane, non-toxic and eco-friendly. Our bird deterrents range from state-of-the-art laser technology to sonic/ultrasonic bird control, goose and pigeon repellents, bird netting, bird spikes, visual scares, and animal sound repellers.