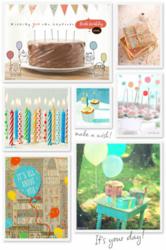 Cleveland, OH (PRWEB) March 28, 2012
American Greetings Corporation (NYSE: AM), known for the best selection of paper cards at retail as well as the most popular ecards and printable greeting cards online, has launched Stayinspired365.com, a creative sharing site designed to offer readers innovative ways to connect and celebrate all year long. In addition to being a hub for creative inspiration, readers of the blog can expect to find imaginative holiday-themed and season-specific content whenever they visit.
Each holiday, the blog will feature inspirational quotes and images, as well as links to the latest greeting cards and ecards to help visitors recognize all of the important people in their lives. During non-holiday time periods, Stayinspired365.com will offer regular inspiration to encourage visitors to tap into their own creative spirit. Readers can find a variety of quotes, beautiful photos, engaging projects, trend collections and "mood boards" all designed to stir up ideas and creativity.
"As a greeting card company, what inspires us are beautiful images, meaningful sentiments, and the constant evolution of design trends. Through them, we extract inspiration, which we use to create cards that help people connect with those they care about," says Sheryl Cohen, brand manager of AmericanGreetings.com. "Similarly, we're hoping the blog will be a place readers can visit to find a little creative inspiration of their own."
Stayinspired365.com will host a guest cast of American Greetings creative developers who will be sharing their talents, personal stories, and expertise. Writers, photographers, artists, musicians, and creative minds of all kinds will pop up on the blog as featured experts on a range of subjects and ideas.
For more information on American Greetings, please visit us at Americangreetings.com To help spur your own creativity all year long, visit stayinspired365.com to explore the full blog.
About American Greetings Corporation
For more than 100 years, American Greetings Corporation (NYSE: AM) has been a creator and manufacturer of innovative social expression products that assist consumers in enhancing their relationships to create happiness, laughter and love. The Company's major greeting card lines are American Greetings, Carlton Cards, Gibson, Recycled Paper Greetings and Papyrus, and other paper product offerings include DesignWare party goods and American Greetings and Plus Mark gift-wrap and boxed cards. American Greetings also has one of the largest collections of greetings on the Web, including greeting cards available at Cardstore.com and electronic greeting cards available at AmericanGreetings.com. In addition to its product lines, American Greetings also creates and licenses popular character brands through the American Greetings Properties group. Headquartered in Cleveland, Ohio, American Greetings generates annual revenue of approximately $1.6 billion, and its products can be found in retail outlets worldwide. For more information on the Company, visit http://corporate.americangreetings.com.