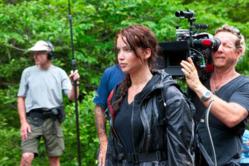 The city was abuzz during filming with cast sightings and cordoned-off filming areas and is sure to become a shrine for fans feasting on all things 'Hunger Games'.
Charlotte, N.C. (PRWEB) March 28, 2012
Visitors looking to experience the 'Hunger Games' frenzy need look no further than North Carolina. The film was largely based in and around Charlotte, which starred as the Capitol of Panem. The city was abuzz during filming with cast sightings and cordoned-off filming areas and is sure to become a shrine for fans feasting on all things 'Hunger Games'. Here's a look at behind-the-scenes spots in the Queen City.
Caught on Film

Most fans would never guess that NASCAR could impact the film, but the seats tributes sat in on the journey to the Arena were fashioned by ButlerBuilt Seat Systems in Concord. The unfinished aluminum frames fit just the right futuristic bill. Fully finished frames can be found in the NASCAR Hall of Fame.
Take in a Blumenthal Performing Arts show at the Knight Theater in Center City. The stage here was the setting for the memorable tribute interview scene between Katniss Everdeen and Caesar Flickerman. Hundreds of outlandishly dressed Capitol extras were brought in to serve as seat fillers.
The Charlotte Convention Center was the scene of a pivotal moment in the film, with the underground loading dock setting the stage where Katniss becomes "the girl on fire."
The abandoned Phillip Morris plant in Concord was used to build most of the sets and stages for filming, which are still housed in storage in Charlotte.
The sweets that tempted Haymitch, Effie, Peeta and Katniss in the lavish dining car en route to the Capitol of Panem were created by local favorite Amelie's French Bakery. Among the mix were tea cakes, petit gateauxs and éclairs. Enjoy their decadent treats at locations in Center City and NoDa.
Life in the Capitol
Spend a meal overlooking the U.S. National Whitewater Center's Competition Channel at the River's Edge Bar & Grill, where Woody "Haymitch" Harrelson was spotted more than once or twice while filming. He also frequented the biking trails and climbing wall.
Learn how to brave the Arena elements with a Survival 101 course at the Center where participants learn different knots and lashings, are taught how to build fires, administer first aid and identify plants that could save (or end…think Nightlock) your life.
Head to NoDa, a popular destination for Lenny Kravitz, Woody Harrelson and Josh Hutcherson, who unwound at favorites like Cabo Fish Taco, Amelie's French Bakery and The Evening Muse. Jennifer Lawrence even rented a house in this 'hood during filming. Be sure to wave to the friendly firefighters at Station 7 along North Davidson Street. They made Lenny feel quite at home during one of his first evenings in Charlotte.
For home decor direct from District 12, head to The Depot at Gibson Mill, an 85,000-square-foot antique mall where set designers bought more than $50,000 worth of merchandise to set the scene for the coal mining town.
Seen Around Town
The EpiCentre, a mixed-use nightlife destination in the heart of Center City Charlotte, played host to the cast and crew wrap party after filming at mod bowling alley StrikeCity.
To warm up for his upcoming tour, Lenny Kravitz performed a private concert at Bojangles' Coliseum for cast and crew. See everyone from The Black Keys to Sesame Street Live at this historic venue.
The cast developed a taste for Southern cooking while in town. Lenny Kravitz admits to indulging in Charlotte staple Price's Chicken Coop for classic fried chicken, while Director Gary Ross ordered the pork belly at the Customshop restaurant on Elizabeth Avenue so often he garnered that nickname.
Find information on Charlotte dining, attractions and more at charlottesgotalot.com, and more 'Hunger Games' details from Charlotte and across North Carolina at visitnc.com/hungergames.
The mission of the Charlotte Regional Visitors Authority is to leverage our hospitality marketing and management expertise to maximize the impact of the Charlotte region's economy…creating opportunities and jobs for our community.