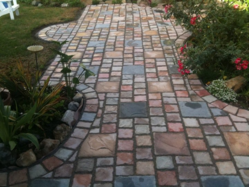 Port Charlotte, Florida (PRWEB) March 29, 2012
The mould concept and making things with moulds has been around for thousands of years. But until recently, there were few available moulds on the market for the serious home improvement do-it-yourselfer. Until a few years ago, one had to buy expensive, mass-produced, cookie-cutter concrete pavers or stone for most any project. And unfortunately, many times the money would run out quicker than the space where the stones or pavers were needed! That has changed. There are now mould companies that sell directly to the do-it-yourself consumer and home handyman and handy woman, like TheMoldStore.com.
When thinking of remodeling, landscaping, or home improvement projects using stone, brick or pavers, here are a few benefits of using concrete moulds to make custom-colored stone, instead of buying common stone from a retailer.
1. Increase the Value of any Home for Pennies.
Most average-priced homes built today have a concrete walk, a macadam driveway, and maybe a poured concrete patio or wood deck outside. Folks rarely choose stone or brick designs for their homes due to the cost...despite the fact that stone lasts virtually forever and adds greatly to the worth of the home. With that said, making walkway or patio pavers, or designing and installing a custom cobblestone paver driveway using molds can greatly enhance the look and value of a home. Want to create a raised flower bed in the yard? Want to build a decorative stone wall with concrete block and cover it with stone veneer made with moulds? Landscape stone adds uniqueness to a home while providing long-lasting benefits to be enjoyed now and by future generations. And now it can be done for pennies on the dollar using concrete moulds.
2. Create Custom Designs and Colors
Any stonework can enhance a home or yard decor; but imagine creating stone designs right at home in a choice of colors—and for pennies each! With concrete stone moulds, color can be added to the concrete mix as desired. And there are hundreds of choices and varieties of mold types, shapes, styles and sizes to choose from. This enables the producer to create truly unique stones and pavers that the neighbors will be envious of.
3. Making Stone is Easy
Manufactured stone and pavers are easier to make at home with molds than one might think, since they come with specific instructions. No special equipment or tools are needed either. A shovel, five-gallon bucket, and an inexpensive plastic tub or wheelbarrow to mix in, is all that's needed. If moulds are ordered from a reputable stone mold company, making professional looking stones and pavers will take little effort to accomplish. And company support will be available should it be needed. Quality moulds are durable and can be used over and over, so fewer can be purchased to get started. Yet many stones or pavers can be made with them. It's so easy- even the kids can help!
4. Don't be Limited to Outdoor Projects
Another benefit is that the stone can be used indoors as well. Build a gorgeous rock fireplace. Create a stone floor entrance in the foyer. Add stones to a plain wall to enhance the look, feel, and richness of a room. With a little imagination and desire, anything is possible. And making stone is not limited to men. According to John Panagos, President of TheMoldStore.com, "more than 60% of our customers are women. And very few of our customers have worked with molds or concrete, before making concrete products with our moulds and instructions."
5. Save Money on Projects Calling for Manufactured Stone
Possibly the greatest benefit of all is that hundreds to thousands of dollars can be saved by making stones or pavers at home. Save as much as ninety-percent of the cost of retail outlet pavers and stone. The price of building materials goes up and down regularly. But the price of bags of concrete mix have stayed relatively inexpensive and constant. Concrete stone molds enable just about anyone to complete a stone project at a fraction of the cost of purchased stones.
Once a homeowner becomes familiar with how to make stone using moulds, friends and neighbors may want to pay to have some made for them too. What started as a project, could literally turn into a small home business without realizing it! Get started today by going online to view what can be made with "concrete stone molds", or visit TheMoldStore for complete information. They've been in the business of helping consumers for over twenty years.