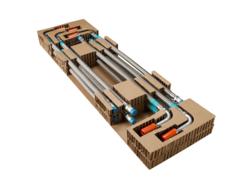 Easton, PA (PRWEB) March 28, 2012
Victaulic, a leading global producer of mechanical pipe joining and fire protection systems, introduces a new pre-assembled system for the AquaFlex® Flexible Stainless Steel Sprinkler Fitting line. The new system includes a pre-assembled AquaFlex Series AQB (braided) or Series AQU (corrugated) system featuring a broad line of recessed and concealed pendent sprinklers as well as short and long elbow reducers.
"The pre-assembled system for AquaFlex Flexible Sprinkler Fittings is just another example of our commitment to producing dependable product solutions for our customers," said Tom Savage, product manager, Fire Suppression Systems. "This new system will save 60 percent jobsite time and reduce the risk of leaks during the installation process. It is a fast, dependable, durable system and is cost effective for both maintenance and retrofit applications."
A variety of optional accessories to speed up installation are also available including the Victaulic FireLock® Style 922 Outlet T for fast, mechanical hole-cut branch-line installation, AquaFlex reducers for Series AQI institutional block wall applications and the AquaFlex 90° Elbows for Series AQB installations in tight spaces.
Every customer is able to specify flexible hose length, branch line fittings, style of reducers and recessed or concealed pendent sprinklers. Each system is made to order and delivered fast in durable and convenient packaging.
Currently, these AquaFlex pre-assembled solutions are only available in North America.
About Victaulic
Founded in 1925, Victaulic is the world's leading producer of mechanical pipe joining systems. Headquartered in Easton, Pa., Victaulic has manufacturing and distribution facilities worldwide and employs more than 3,500 people. The company develops products and services for some of the world's most demanding markets, including oil, gas and chemical; mining; power generation; water and wastewater treatment; and military and marine systems; as well as commercial building and fire protection applications. Keep in touch with Victaulic on Facebook, Twitter or LinkedIn.