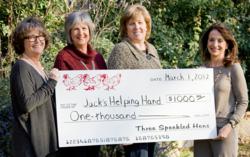 San Luis Obispo, CA (PRWEB) March 29, 2012
The Three Speckled Hens Antique Show will once again raise funds for charity on the Central Coast. This year's show on April 14 and 15 will donate a portion of the gate sales to local nonprofit organization Jack's Helping Hand.
In the past year, Three Speckled Hens donated a total of $2,300 to Jack's Helping Hand from last year's shows. Event organizers Carrie Millan, Kathy Marquart and Susi Fuller (the "Three Speckled Hens") were so inspired by the mission of Jack's Helping Hand, they have chosen to support it again for the upcoming show in April in Frontier Town at the Paso Robles Event Center.
This year's show brings with it special guest Ki Nassauer, founder and owner of Junk Revolution and Junk Bonanza and former contributing editor to Country Home Magazine. Nassauer will be there on April 14 at 12 and 2 p.m. for a special meet and greet, and to autograph copies of the newest Flea Market Style Magazine. The two-day show hours are from 10 a.m. to 4 p.m. The show's entry fee is $7 per person and the early bird entry fee on Saturday (from 9 to 10 a.m.) is $10 per person.
Now in its sixth year of service, Jack's Helping Hand assists children with illnesses and disabilities, providing special treatments, services, equipment and transportation not provided by other sources, or that exceed family financial capabilities.
For a schedule of shows and more information, visit http://www.threespeckledhens.com. For more information about Jack's Helping Hand, please call (805) 547-1914 or visit http://www.jackshelpinghand.org.