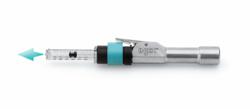 Miami, FL (PRWEB) March 28, 2012
INJEX Pharma AG is currently listed on the 1 Quotation Board and plans to switch shortly to Entry Standard at the German Stock Exchange in Frankfurt. The company will issue a securities prospectus for this purpose. On this basis, combined with increased growth rates and excellent future potential, our goal is to elicit and enthrall American investors. Another roadshow in London will ensue.
Injex Pharma has repositioned itself and has begun to successfully create worldwide markets of their INJEX30, the innovative injection technology, syringe without a needle. In 2012, the company has received a lot of attention within the healthcare industry and beauty markets.
According to Andy Rösch; "We are confident and demonstrating with conviction, through our international distributors, the potential of INJEX Pharma AG. In addition to medical applications, we are responding to the need within the beauty segment. As the first company worldwide, we offer a needle free hyaluronic acid wrinkle treatment. We feel with the related income opportunities, and roadshows, we will be able to solicit enthusiastic investors."
INJEX Pharma is aware we will face competition in the field of needle free injection technology. That is why we are committed to focusing on the future. Our intent is to do new research and develop new strategies as the areas of applications continues to grow.