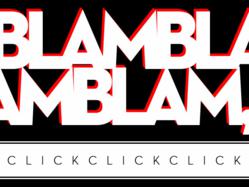 "How did it come to this?" Skinny Bones Productions co-founder Jaz Garewal
Tucson, AZ (PRWEB) March 27, 2012
Skinny Bones Productions has decided to swallow its pride and turn to Kickstarter to raise funds to produce the web series, "BLAMBLAMBLAM, ClickClickClick: The Series".
"How did it come to this?" Skinny Bones Productions co-founder, and the web series' writer-director Jaz Garewal stated with a question-like tone. "We were doing so well telling actors and crew that they were going to get paid a percentage of the imaginary revenue stream that our other productions never made."
The web series continues the exploits of hostage negotiators Lts. Leo Darden and Rick Carter that began in the festival-favorite short, "BLAMBLAMBLAM, ClickClickClick: The Prologue". The two cops find themselves locked in another high stakes bet that puts Darden's newly won sunglasses and Carter's dead dad's wristwatch on the line. Oh, and there are, like, a few hostages being held by a crazed guy who took over a restaurant for his birthday.
"When Jaz told me that there might be some money involved in this one, I called him back," said Chris Wolf, reluctant co-founder of Skinny Bones Productions and the contractually obligated producer of the series. "When he said he actually didn't have the money and was relying on donations through Kickstarter to get the project rolling, I hung up."
Skinny Bones Productions is in better shape than Mr. Garewal and Mr. Wolf's relationship, having a number of subjectively enjoyable productions under its belt, and mentions in various publications, including a review on The New York Times' website that had the audacity to call SBP's 2010 web series', Off Key, "… a presentation worthy of a show with a much higher budget." "You can't get much higher than zero," Mr. Wolf sarcastically spat.
The Kickstarter campaign for the "BBBCCC" web series will run from the end of March, through the beginning of May. The campaign will be bookended by the Phoenix Film Fesitival's screening of the "BBBCCC" short on March 31st and April 1st, and a screening in Tucson on May 4th at The Loft's Golden Gong Awards event.
To find out how you can get some questionably cool perks and help fund the series, head over to http://www.sbpro.co, where you can find a link to the Kickstarter campaign, watch past SBP productions and follow SBP on Twitter @SkinnyBonesProd for up-to-the-when-I-feel-like-it updates.