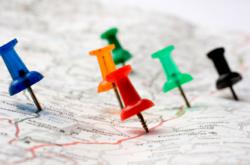 Watching the points of my life appear on uencounter.me maps, gives me an entirely new appreciation for my peripatetic life. I love uencounter! - Cathryn Wellner
Philadelphia, PA (PRWEB) March 29, 2012
As the user database at uencounter.me website continues to grow, people from all over the country are becoming more enlightened and re-discovering the fulfillment from their past experiences. Uencounter.me allows users to visualize life's unique journey in detail via a virtual – web based – pin map and allows users to map memorable moments and discover connections.
Uencounter.me allows people to drop interactive pins on the map in locations where they experienced a 'memorable' moment. Users may then search for someone else that was there, express gratitude to someone who helped make it memorable, and then connect with other users who are identified as having been there too! One feature of uencounter.me is the ability for users to 'link' with one another and overlay their maps to discover commonalities. A published writer and user of uencounter.me reviews; "Watching the points of my life appear on uencounter.me maps, gives me an entirely new appreciation for my peripatetic life. I love uencounter!"
However, the most unique characteristic to the uencounter.me platform is its universal compatibility to serve every person, of every culture and age, sharing various interests. Among the many recreational groups that have benefitted from the website are hikers and travelers. "Uencounter.me has been a great way to explore the adventures of others via places of interest while networking and posting my own blog links" says Heather Markman, a travel blogger. This application is great tool to record journeys, find missed connections, and say thanks for retrospective feelings of gratitude. Uencounter.me is also great for people who have just met - build maps and overlay to discover shared areas of interests with new acquaintances.
For more information or to begin building a map, go to: http://www.uencounter.me