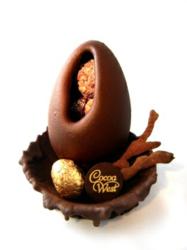 Forty-three percent of smartphone owners celebrating Easter will use their mobile device to research and/or purchase items.
(PRWEB) March 30, 2012
It's not that difficult to find a chocolate Easter egg or bunny at this time of year. But finding one made of fine chocolate and crafted with more artisanal rather than industrial methods can be a bit of a challenge, says Pam Williams, creator of Chocomap.com and the Find Chocolate! App.
North Americans in particular are fond of their chocolate at this time of year, with 80 per cent of them buying Easter treats and sweets – more than anyone else in the world, according to recent research on seasonal confectionery spending by Leatherhead Food Research.
"If you're looking for something a little more special than off-the-shelf retail Easter chocolate, your best bet is to find a local chocolate shop, many of them run by chocolate artisans, such as Pierre Hermé of Paris or Joanne Mogridge of British Columbia, whose experience, passion and creativity spur them on to make beautiful and edible works of art. And we've got a free app that will help you find the one that's nearest to you," says Williams.
The Find Chocolate! app, delivers chocomap.com's directory of 2,400 chocolate shops around the world to the user's fingertips, whether they're carrying an iPhone or Android phone. The app has already been installed by more than 8,000 chocolate lovers around the world.
"It's such an easy way to see where the shop is, especially if you're traveling or in a city you're not thoroughly familiar with," says Robert Quimet, an app user. If your favorite shop is not on the map already, you can add it yourself as well as upload pictures.
As well, online product research and shopping is increasing dramatically, according to http://www.drugstorenews.com. "More than half (52.3%) of tablet owners celebrating Easter will use their device to research products and purchase gifts and other merchandise," says a recent release from DSN, adding: "More than one-quarter (26.3%) will look up company and store information, such as store hours and location, and 15.3% will use apps to research and purchase products. Additionally, 43.3% of smartphone owners celebrating Easter will use their mobile device to research and/or purchase items."
So whether you're in Paris and lusting after one of much-lauded chocolatier Pierre Herme's gorgeous chocolate-ivy clad eggs or are relaxing in the natural charm of British Columbia's Bowen Island where Cocoa West, one of the area's top chocolatiers, uses great chocolate mastery to create eggs that include a process using the sun to sculpt its shape – locating these edible treasures is only a click away.
The Find Chocolate! App is available for free at iTunes, Android Market and Amazon Apps for Android.
Founded in 2003, Ecole Chocolat Professional School of Chocolate Arts offers a portfolio of programs for chocolate making – mastering techniques while gaining the expertise and business knowledge needed to become a professional chocolatier or chocolate maker. Ecole Chocolat's founder Pam Williams is the recipient of the Award of Excellence in Service to the Industry from the Fine Chocolate Industry Association. See our website: http://www.ecolechocolat.com