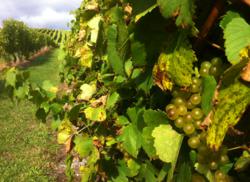 "This is a crown jewel of the world as far as I'm concerned, and I think that the wines being produced here are the new modern classics."
~ Master Sommelier Claudia Tya
Leelanau Peninsula, MI (PRWEB) March 29, 2012
April has been declared "Michigan Wine Month" by Governor Rick Snyder. Michigan's vineyards and wineries are a key part of the state's tourism and agricultural industries, contributing almost $800 million to Michigan's economy and drawing over 1 million visitors throughout the year.
The Michigan Grape and Wine Industry Council added 11 new wineries to its roster over the last year, and the Leelanau Peninsula Wine Trail is mirroring this growth, welcoming its 20th winery in 2012.
"I love this region," says Master Sommelier Claudia Tyagi. "There's so much fresh water and such beautiful soil diversity. Michigan has been looked at as only industrial for almost a century, but it's truly a cradle of gastronomy. This is a crown jewel of the world as far as I'm concerned, and I think that the wines being produced here are the new modern classics. They are best viewed through the lens of cool climate, European wines and work beautifully at the table."
Black Star Farms winemaker Lee Lutes has tasted many wines from the new 2011 vintage with his fellow Leelanau vintners. He relates "I don't think there's a winemaker in Leelanau who is not as excited about the 2011 vintage as they've ever been about any vintage. We have exceptional quality across a broad range of white and red wines with an almost unprecedented volume. Our 2011 Pinot Noirs and 2011 Rieslings are some of the best we've ever seen, and I think that every winery on the Peninsula is feeling the same level of enthusiasm for this vintage."
You are invited to connect with Leelanau wineries any time in April or at their upcoming Spring Sip & Savor wine tour on May 5th & 6th, 2012. The weekend tour offers a chance to enjoy food & wine pairings at the wineries of the Leelanau Wine Trail.
Get details on the Spring Sip & Savor and connect with the wineries through the Leelanau Peninsula Vintners Association website at: http://www.lpwines.com.
The Leelanau Peninsula Vintners Association (LPVA) was formed in 2000 with a goal to help spread the word about all the wonderful things our wine trail and the Leelanau Peninsula has to offer. Today, it is the largest and strongest of the four organized wine trails in Michigan which promote the state's nearly $800 million grape/wine industry. More information available at http://www.lpwines.com/press.