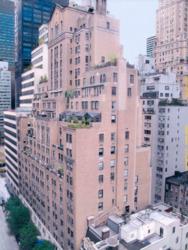 Wald's Unique Luxury Accommodation Service Provides Oversized, Fully-Furnished Suites for Corporate Housing, Executive Relocation and Temporary Housing Needs
New York, NY (PRWEB) March 28, 2012
Wald Real Estate, a full-service brokerage firm, has announced an all-new luxury accommodation program at Manhattan's famed Lombardy Hotel. Available for both short- and long-term rentals, the program is designed to provide maximum flexibility and value for executives and relocating families who are seeking luxury accommodations on flexible terms.
The Lombardy Hotel has offered unparalleled pre-war elegance and boutique appeal since 1926. Wald's luxury accommodation program provides clients with all of the amenities of luxury New York City living, combined with the flexible terms required by everyone from bustling international corporations to families in transition.
"The Lombardy has been one of the Plaza District's finest full-service Hotels since the Roaring '20s, and it remains the epitome of Manhattan luxury living," says Stephen Wald, whose firm is the on-site broker at the New York City landmark. "In addition to its upscale European style, we provide our clients with all-inclusive white glove hotel services which include maid service twice-daily, on-site fitness center, free Wi-Fi and cable, and more." He adds that units can also be purchased for permanent housing, offering a great investment opportunity in New York.
The Wald luxury accommodation program can be tailored to the unique needs of any client. "We've got the ultimate no-compromise solution for everyone, whether they're just passing through New York City, in between permanent housing or looking to stay for a while," Wald concludes. "We work with every client to ensure that their stay, whatever its length, exceeds all of their expectations."
Companies and individuals seeking short- and medium-term luxury accommodations in New York City should contact Stephen P. Wald Real Estate Associates directly at 212-750-WALD (9253).