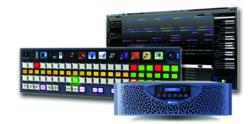 Burbank, CA (PRWEB) March 28, 2012
Pixel Power Inc., (NAB Booth N2034) the leading innovator and supplier of broadcast playout solutions with integrated graphics, has today announced plans for NAB 2012 which include a showcase of its new ChannelMaster integrated playout system. ChannelMaster, as well as all Pixel Power product families, is designed to support social media and second screen display applications. The event will also be the first-ever showing at NAB of Pixel Power's new Gallium integrated, sophisticated and scalable scheduling, asset management and automation system.
"Graphics are no longer planned and executed from a single point in the broadcast chain. So Pixel Power graphics now pervade every aspect of the operation, putting functionality where business, creative, distribution and workflow requirements need them," said Pixel Power Inc. CEO Pete Challinger. "The combination of our new Gallium automation system with our powerful integrated playout systems like ChannelMaster and other graphics appliances enable the creation of broadcast operations that encourage sharing of resources across channels, reduce workload requirements, and optimize delivery."
Gallium is Pixel Power's new integrated scheduling, asset management and automation system for playout facilities that need automated control of Pixel Power transmission devices, including ChannelMaster, for graphics or complete channel playout. Gallium goes beyond the usual 'channel in a box' automation to provide a true enterprise caliber, scalable, automated transmission solution. Gallium can manage delivery of multi -format content for web, mobile, and IPTV applications- including 601, HD-SDI and file based outputs. The resulting fully automated environment maximizes sharing across multiple channels, reduces workload and resource requirements, and enhances delivery and consistency. This architecture is capable of scaling readily to more than one hundred channels that can all be monitored from a single operator position.
ChannelMaster integrated channel playout systems combine storage, graphics, DVE, audio, subtitling, master control, live feed and long-form video playout all within a single dedicated hardware platform. ChannelMaster changes expectations about what can be done with integrated playout. Bringing the full feature set of a traditional Master Control switcher to the integrated playout environment, ChannelMaster includes an optional hardware panel for operator driven live switching. Inside ChannelMaster is dedicated processing that supports a full range of sophisticated graphics including real time 3D, multichannel clips with alpha and unlimited layers. A single ChannelMaster unit can be configured as one complex channel with preview or two simpler channels.
"Cost is ultimately the biggest factor driving broadcasters to consider channel in a box solutions. A Gallium-ChannelMaster bundle costs significantly less than a functionally equivalent system using conventional equipment and automation. In fact, the more sophisticated a channel will be graphically, the greater the savings to be had," said Challinger.
For more information about Pixel Power products and to reach our sales team, visit http://www.pixelpower.com.
About Pixel Power
Pixel Power provides innovative graphics production and delivery systems for broadcasters, OB truck companies, playout facilities, post-production houses, venues and sports complexes. Our award-winning branding and promotions systems, integrated channel playout systems, graphics-enabled master control switchers, and sophisticated HD/SD switchable graphics production systems allow producers to deliver dynamic live and pre-recorded content for any SD, HD, 3D stereoscopic, mobile, online or interactive application.
For more than 20 years Pixel Power's engineering prowess and dedication to customer support have made it the industry's first choice. Our customer base of over 2000 systems includes market leaders like ABC, Astral, CBC, Disney, Discovery, ESPN, HBO, MTV, CNBC and Technicolor.
Headquartered in Cambridge, England, Pixel Power has a subsidiary located in Burbank, California and a Middle East office in Dubai, as well as a global network of carefully selected and trained distributors to support any requirement.