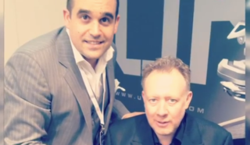 If it's necessary, we will take four years to develop a product
New York, NY (PRWEB) March 27, 2012
Haute Time, the ultimate resource for luxury timepiece aficionados, is flooded with new content from Basel World 2012, including exclusive video interviews. Haute Living Co-publisher and Haute Time curator Seth Semilof sat down with Martin Frei, founder of Urwerk watches, to learn about the brand's history and where it stands today.
"It's 15 years now since we presented our first watch at Basel World," shared Frei. "[The pieces] featured a time indication similar to the ones we have now [and] the time channel principle…is the same, and that actually enabled us to come up with the crazy watches you see here now."
The seasoned brand might continue to trust the same principles and mechanics, but they certainly have evolved. The newest additions to Urwerk's line are two versions of the 110 model, with 110 stripes on the face, created in only 55 units. Another stunning piece is the UR-1001—also known as "Zeit Device Über Complication." A carousel system, day and night indication, power indication and an annual calendar characterize this inventive timepiece.
"We want to offer the absolute precision [and] perfect machinery; we want to give the highest quality," continued Frei. And Urwerk will go to lengths to achieve just that. "We have to spend time. If it's necessary, we will take four years to develop a product," he said.
Gaining an inside look at the industry's star timepieces directly from the company CEOs demonstrates the respect and passion Haute Time reserves for luxury watches and their corresponding brands.
Check out the exclusive interview with Frei here and explore the many wonders of Basel World 2012 at http://www.HauteTime.com. http://www.hautetime.com/feature/haute-time-presents-martin-frei-of-urwerk-watches-at-basel-world
About Haute Time
Haute Time curators realize that luxury watches are more than style statements; they're representative of an individual's personality, aesthetic and attitude. The site features the most recent news in all things time, including new releases from the top brands, interviews with those helming these upscale watchmakers and a watch locator, which provides site visitors with authorized retailers nearby to them. Hautetime.com is frequently revised to reflect the latest in news, collections and brands, including Ulysse Nardin, Bell & Ross, Omega and beyond. Our experts regularly review the latest pieces and happenings in the market, including updates from Patek Philippe and Audemars Piguet.
# # #
For more information, please visit: http://www.hautetime.com