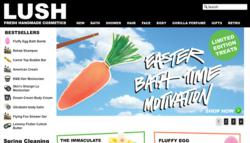 Seattle, WA (PRWEB) March 27, 2012
LiveAreaLabs announces that it has completed the design and implementation of three North American ecommerce storefronts for LUSH Cosmetics, a global retail brand specializing in fresh, handmade beauty products for sale online and in stores in 49 different countries. The storefronts implemented include U.S. English, Canadian English, and Canadian French websites in both online and mobile versions.
The North American LUSH websites were created using Demandware, a leading on-demand platform that empowers retailers to create tailored shopping experiences across all digital channels. Choosing Demandware, with its on-demand model, gives LUSH the freedom to develop and support future multi-site deployments that meet the needs of its customers.
"Our dedicated customer community expects a seamless, fun and positive shopping experience both in our stores and online. With this implementation, we're able to focus on the brand experiences our customers have come to expect, rather than on basic administrative needs of web maintenance," said Mark Wolverton, CEO of LUSH Cosmetics North America.
As a Demandware Solutions Partner and full-service digital retail agency, LiveAreaLabs brings considerable expertise to the process. In addition to providing LUSH with services that spanned initial technical consulting, custom development, and ongoing support, LiveAreaLabs also provided web design oversight to ensure the storefront took full advantage of Demandware's powerful functionality.
"LiveAreaLabs is great digital agency partner to LUSH. Their outstanding project management, digital design, and ecommerce technology expertise enabled us to rapidly launch all three of our North American websites on time and on budget," says Graham Tippett, Web Manager at LUSH.
In addition, LUSH has a lively user base that shares its thoughts and feelings about LUSH products. To further foster this high level of brand affinity and interaction, the solution created by LiveAreaLabs also includes a full Gigya implementation. Gigya is a service that makes websites social by integrating online businesses with the most popular social networks and implementing powerful social plugins into a single, comprehensive solution.
About LUSH Cosmetics
LUSH Fresh Handmade Cosmetics offers scented selections of ethical skin care, hair care, bath and body treats, as well as off-beat gift ideas loaded with natural ingredients. A self-appointed cosmetic-deli, LUSH makes effective products out of fresh organic fruits and vegetables, the finest essential oils and ingredients that are ethically and sustainably procured from around the world. Since LUSH came on the scene 17 years ago, its philosophy has always been based on ethics and having the least impact on the environment while still producing effective and innovative beauty products. For more information, visit http://www.lush.com
About Demandware
Demandware is a leading provider of software-as-a-service (SaaS) ecommerce solutions that enable companies to easily design, implement and manage their own customized ecommerce sites, including websites, mobile applications and other digital storefronts. Customers use our highly scalable and integrated Demandware Commerce platform to more easily launch and manage multiple ecommerce sites, initiate marketing campaigns more quickly, and improve ecommerce traffic. For more information, visit http://www.demandware.com
About Gigya
Gigya is the #1 social choice for websites, integrating online businesses with the top social networks and identity providers including Facebook, Twitter and LinkedIn, consolidating the most powerful social features in a single solution. The company offers a suite of social plugins such as Social Login, Share, Gamification and community features enabling sites to drive social registrations, scalable word-of-mouth marketing and community interaction. Additionally, Gigya's Social Identity Management Platform offers the next generation in user data management, providing businesses with complete, permission-based access to users' social and on-site behavior data. Through analytics, best practices, consulting and support, Gigya optimizes every implementation, delivering measurable social ROI. For more information, visit http://www.gigya.com
About LiveAreaLabs
LiveAreaLabs® is a full-service ecommerce agency. Consumer brand manufactures and retailers throughout North America partner with LiveAreaLabs to create flagship digital retail experiences. Offerings include branding, digital platforms (ecommerce, mobile, applications), and digital marketing. Clients include Brooks Sports, The Coffee Bean & Tea Leaf, Fila, London Drugs, Lucky Brand Jeans, LUSH Cosmetics, Meredith Wendell, Moving Comfort, RealNetworks, Urban Decay, Virgin HealthMiles, and World Vision.
For more information, please visit: http://LiveAreaLabs.com
###