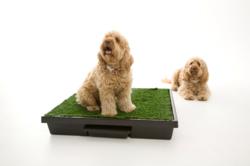 New York, NY (PRWEB) March 29, 2012
We hear about negotiations surrounding austerity and debt in Greece and the perilous status of the Euro, while U.S. credit has recently been downgraded. But this global recession doesn't deter Tobi Skovron, the 31-year-old CEO and Founder of The Pet Loo. He has his eyes set on bringing his "backyard in a box" pet product to 150 countries by the end of 2012.
This bold ambition is nothing new for Skovron, who thought of the idea when he was just 23 years old. At the time, he was living in a high rise apartment in his native Melbourne, Australia with his dog. He needed a solution to the constant demand of running up and down the stairs to take his pet outside. This need led to the creation of The Pet Loo, which Tobi and his wife Simone, an animal behavioral specialist, first launched in 2006 on the Australian hit TV Show "The Inventors." It's a show they won.
Skovron's award-winning creation and successful business model have also been widely recognized by the media, including major national outlets such as CNN, CNBC.com, USA Today, KTLA-TV, and Bloomberg Radio, among many others.
"Success didn't just happen. I made it happen. Realizing the U.S. market has 170 million cats and dogs, I literally lugged my first Pet Loo prototype around the streets of New York City back in 2008 because I knew we needed to make our product the leader in the U.S. market. I was this Australian kid with big eyes and a dream and nothing was going to get in my way," says Skovron, who ended up literally bumping into a chance meeting with his greatest mentor, a pet industry guru, in a Murray's Bagels line in Manhattan.
Over the past year, Skovron's sales revenues have increased 53 percent worldwide. Even more impressive, Skovron is using technology to keep a tight rein on overhead and operating costs, with the ability to expand to 1,000 times his revenue due to his investment in proprietary cloud technology. As fast as his mouse can operate is as fast as Skovron can process orders. Recently, he received an email from a Swedish customer requesting 190 Pet Loos. He processed that request, from his Los Angeles offices, seamlessly in under five minutes.
Although Skovron's largest markets are the U.S., Australia and Canada, he is seeking new customers and distributors in Korea and Japan, among dozens of other countries. Still, his goal is not to stretch his business too thin, but to ensure he has a carefully thought out presence in each country.
For more information about The Pet Loo or to schedule an interview with Tobi Skovron please contact Audrey Strong at (720) 324-8689 or Audrey(at)fetchingcommunications(dot)com.
About The Pet Loo
The Pet Loo concept was invented in 2003 by Melbourne, Australia based-Founder and CEO, Tobi Skovron when he was just 23 years-old. The business officially launched in 2006 under Pup Pee Solutions Pty Ltd and won the People's Choice award on New Inventors, the ABC television program in Australia. Simply put, The Pet Loo or "backyard in a box" is a unique solution to a worldwide problem facing pet lovers – how can I be a pet owner if I don't have a place or the time to let my pet out? By using a patented drainage system, synthetic grass and 100% chemical free, hygienic and odorless materials, The Pet Loo provides an indoor potty option for a pet. It is ideal for pet owners living in apartments, condos, houses, offices, or boats or anywhere that does not have an easy option for taking a pet outside. The Pet Loo has proven to be a great help for the elderly and disabled who desire the therapeutic benefits of pet ownership, but are not physically able to meet all of its outside needs. Today, The Pet Loo is used in over 84 countries around the world. From celebrities including Dr. Phil to its average customer – a 22-38 year-old female – The Pet Loo continues to grow in revenue and sales. To purchase The Pet Loo, which ranges in price from $99-$149, visit the online store at shop.thepetloo.com. "Like" The Pet Loo on Facebook at facebook.com/PetLoo, and follow on Twitter: twitter.com/petloo.