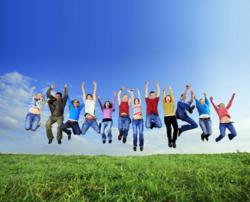 Rewards are appropriately, instantly and securely allocated – with no human intervention
London, UK (PRWEB UK) 29 March 2012
Contact centre employee motivation experts, Motiv8 Solutions, joined forces in January with the UK's most innovative employee reward firm, Red Letter Days B2B, to offer UK contact centre operators a unique and unrivalled motivation and monetary reward offering for the Contact Centre industry. Since then both parties have been working hard to integrate the two platforms to automate the allocation of credit in Lifestyle.
Heather Rogers, Sales Director at Red Letter Days B2B enthused, "Lifestyle is a game changer in the reward market and now that it is integrated with Motiv8 we can guarantee our clients a Return on Investment. We also overcome all of the downsides of traditional treat based reward schemes; so with Motiv8 V2Pro and Lifestyle the budget holder is guaranteed that rewards will be allocated immediately when earned, will only be allocated to those who have earned it and are only ever given when the employer earns incremental profit."
Steve Clucas, Motiv8 Chairman said, "This is a big milestone in our relationship with Red Letter Days B2B. Integration is actually only a means to an end. The end game being that rewards are appropriately, instantly and securely allocated – with no human intervention. All the budget holder needs to do is agree the criteria for rewards to be allocated and V2Pro will do the rest, automatically crediting the employee's Lifestyle accounts"
The recently launched Red Letter Days B2B Lifestyle platform, targets the low cost, frequent reward market making it an ideal fit in the help desk and contact centre environment. Lifestyle has the most flexible and extensive range of entertainment and leisure treats, available for use with a single voucher and provides employees online access to some of the biggest home entertainment, fashion and beauty brands. Some of their great offerings include: ideas for holidays, staying in/going out; tickets to famous attractions, sporting events and much more.
-ENDS-
Notes to Editors:
Red Letter Days B2B
Established in 1989 Red Letter Days pioneered the idea of giving unforgettable experiences as gifts. As the UK's leading experience company, it also provides successful reward and recognition solutions to hundreds of companies across the UK, including many of those in the FTSE 100..
Owned by two of the country's foremost entrepreneurs: Peter Jones and Theo Paphitis, Red Letter Days B2B offers creative, all encompassing, flexible, results-driven solutions which include Experience vouchers, Lifestyle vouchers, Events and Gifts, backed up by first-class account handling services and an enormous portfolio of partners and venues.
For more information visit http://www.redletterdaysb2b.co.uk
Motiv8 Solutions
Motiv8 Solutions are experts in the field of employee motivation. Our unique, cloud-based Motiv8 V2 Pro Solution, aimed at call centre environments worldwide, improves the motivation, competency and inclusion of employees, resulting in greater engagement, capability and commitment. The outcome of this is more sales, lower costs and a leap in employee and customer satisfaction.
Motiv8 Solutions' low-cost application enables corporations to easily, instantly and consistently recognise and reward great performance from their contact centre employees. In addition Motiv8 provides a unique, unthreatening and on–the-job method of assessing employee competency and knowledge, and subsequently addressing any knowledge gaps, in a way that is hugely popular with employees and employers.
Motiv8 V2Pro is readily deployed, intuitive, low cost and completely unique. For some examples of how Motiv8 has been put to use for considerable economic benefit visit http://www.motiv8solutions.com/casestudies.html
Contact (Red Letter Days B2B):
Patrick McAleenan, Head of PR & Marketing
020 8442 2044 / Patrick(dot)mcaleenan(at)redletterdays(dot)co(dot)uk