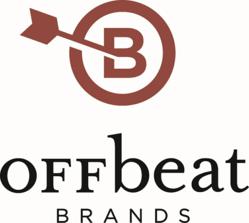 "Our motto is Drink Different," says Mike Kenton.
Petaluma, California (PRWEB) March 28, 2012
Longtime wine and spirits executive and entrepreneur Mike Kenton has announced the formation of OFFbeat Brands, a new beverage company that develops, sources and markets high quality, eclectic and highly differentiated wine and spirit brands from around the globe. With plans to introduce several new products in 2012, Petaluma, California-based OFFbeat is poised to quickly penetrate the U.S. market with wines and spirits specifically targeted to Millennial and Generation X consumers looking for beverage brands to enhance and complement their modern lifestyles.
"Our motto is Drink Different," says Kenton, a 36-year industry veteran whose career has included senior management positions at Artesa Winery and Aveniu Brands (Codorniu USA), E&J Gallo Winery, Chateau St. Jean Winery, Buckingham-Wile Company, and Joseph E. Seagram prior to forming OFFbeat. "Each OFFbeat brand is based on a solid understanding of the target market, and is grounded in creativity and innovation as well as the highest quality product sourcing."
The majority of OFFbeat's brands will be created and wholly-owned by the company, with the first product launch scheduled for April 2012. As the company name suggests, each brand will be what Kenton describes as "a little edgy and somewhat unpredictable," with graphics and accompanying promotions that convey a bold, youthful sensibility along with a sense of fun and adventure.
In addition to its own brands OFFbeat will represent a small number of hand-selected international wine properties under its Luxury Estates & Domains division. Chosen for their quality, authenticity and brand recognition, OFFbeat's Luxury Estates & Domains wines will include selections from Italy, Spain, Australia, Argentina and New Zealand.
Partnering with Kenton in OFFbeat is Xavier Batlle, a European wine executive with over twenty years of experience in the global wine industry, including positions as Managing Director at United Wineries International S.A. in London and International Director at Codorniu S.A. in Barcelona. Batlle is responsible for OFFbeat Brands' global supply relationships, management and procurement, and international sales. He is also the key liaison with the European suppliers in OFFbeat's Luxury Estates & Domains division.
Kenton has also announced the appointment of two industry professionals to key executive positions at OFFbeat Brands. Craig Moore has been named Vice President, Sales and Brenda Peterman has been appointed Vice President, Operations. Moore, who has over 20 years of sales and marketing experience in the U.S. wine industry with positions at Billington Imports, Parducci Winery, Chateau St. Jean as well as his own Vine Hill Consulting, was most recently National Sales Manager for Langtry Estate/Guenoc. A 20 year wine industry veteran, Peterman gained sales, marketing, purchasing, promotions and strategic business planning experience at Artesa Winery and Aveniu Brands, Vinstar Imports, Parducci Winery and Chateau St. Jean.
Prior to forming OFFbeat Brands, Mike Kenton was CEO at Artesa Winery and Aveniu Brands in Napa, California and Baltimore, MD from 1996 to 2011. Before that he served as National Sales Director-Fine Wines at E&J Gallo Winery in Modesto, and also held successive sales and marketing positions at Chateau St. Jean Winery, Buckingham-Wile Company, Joseph E. Seagram and Sterling Vineyards.
OFFBeat Brands is based in Petaluma, California with offices at 1304 Southpoint Boulevard, Ste., 240, Petaluma, CA 94954. Phone: (707) 897-3001. The company website can be found at http://www.offbeatbrands.com.
Contacts:
Mora Cronin, Cronin Communications, moracronin@comcast.net , (707) 227-2641
Brenda Peterman, OFFbeat Brands, Brendap@offbeatbrands.com; (707) 200-2216