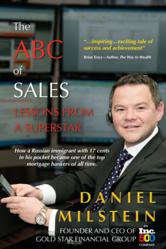 This is a very attractive time for first-time buyers looking for a starter home or for others to move up to another home.
Ann Arbor, Michigan (PRWEB) March 28, 2012
With the economy picking up steam and the market value for existing homes at near bargain prices along with interest rates at historical lows, there's never been a better time to buy and finance a new home. So says Dan Milstein, CEO of Gold Star Mortgage Financial Group. "This is a very attractive time for first-time buyers looking for a starter home or for others to move up to another home," says Milstein.
For first-time buyers, looking for a mortgage to finance that purchase can be very daunting. But a few steps, followed closely, can make the search much easier and less stressful for first-time and repeat buyers.
Dan Milstein, who is the #1 mortgage originator in the nation, has helped thousands of first-time buyers through the maze of applying for and securing a mortgage. Drawing upon that experience and knowledge, Milstein has developed a list of nine tips he suggests for all mortgage seekers but especially for first-timers:
1. Purchase a home if you plan on living there for at least three years. Otherwise, the transactions costs of buying and selling a new home may cause you to lose money if you sell within a year or two after buying.
2. First-time home buyers are almost always better off working with a Realtor. A Realtor has more knowledge of the local market, has more resources available to them and is more skilled at negotiating than almost all buyers.
3. Before searching for a home, first shop around for two or three different mortgage lenders that suit your needs. Consult with these lenders to find out how much you will be able to borrow, and what home price ranges are within your reach. The rule of thumb is you can afford a mortgage that is within 2 ½ times your annual salary, but your lender can be more precise.
4. Get pre-approved before you shop for a home. This requires a lender to review and verify the buyer's income, credit and assets to determine what monthly payment can be met. To assist in this review buyers should produce: W2 or 1099 income statements for the past two years; federal tax returns for the past two years; bank statements for the past six months; pay stubs and other proof of income for the past six months; and proof of investment income.
5. Don't let your pre-approval expire before you make a purchase. Pre-approval letters have expiration dates, usually for 90 days.
6. The buyer is not obligated to obtain a mortgage from the lender granting preapproval. Pre-approval is a conditional promise that the lender is willing to make the loan but the buyer is not obligated to borrow from that lender. A pre-approval often does not stipulate the loan type or rate; lenders will use the current day's mortgage rates to determine costs and payments. Remember, the rate can change between the time you are pre-approved and the time you sign a purchase contract.
7. Now is the time for a fixed rate mortgage. The current rates are low and they're more likely to go up than down. So, avoid adjustable rate mortgages which allow your rates to fluctuate with the market, up or down.
8. Beware: Multiple loan inquiries can cause your FICO credit score to drop. Try to keep all shopping to one 14 day period.
9. Deal only with reputable mortgage companies like Gold Star to make sure the lender will deliver on the loan as promised.
Gold Star Mortgage Financial Group, based in Ann Arbor, Michigan is (http://www.GoldStarFinancial.com), a full service mortgage financial service firm. According to Milstein, "Gold Star is committed to providing the highest level of personal financial services in a professional manner. Our primary fiduciary goal is to build and develop relationships with our clients that are professional and lifelong."
Established in 2000, Gold Star employs more than 500 people within 43 offices throughout the United States. In February 2012 Gold Star was recognized as the 43rd largest mortgage company in America by Mortgage Executive Magazine. For more information visit Gold Star Mortgage Financial Group http://www.GoldStarFinancial.com or call: 800-201-LOAN(5626)
About Dan Milstein
Daniel Milstein is CEO of Gold Star Mortgage Financial Group, an Inc. 500 company, and is author of a bestselling and award winning book, The ABC of Sales, http://www.ABCofSales.com Milstein has been recognized as the #1 mortgage originator in the nation and has been among the top 40 finance professionals in America for 10 years. Milstein has achieved more than $3 billion in personal career mortgage sales, is a licensed mortgage lender in 20 states, and has 15 years in the banking industry as an executive, originator, underwriter, productions and operations manager with the highest track record in the industry.
-END-
Media Contact: For a review copy or to arrange an interview with Daniel Milstein contact Scott Lorenz of Westwind Communications Book Marketing at scottlorenz(at)westwindcos(dot)com or http://www.book-marketing-expert.com