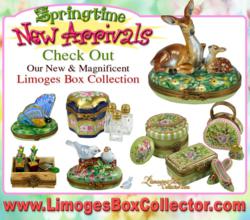 Our fantastic selection of French Limoges boxes is sure to please Limoges collectors and gift-buyers of every taste and budget!
Los Angeles, California (PRWEB) March 28, 2012
LimogesBoxCollector.com is proud to announce the arrival of the Spring Collection of Limoges boxes by Beauchamp Limoges. The Collection features the highest quality porcelain craftsmanship and artistry with magnificent detailing and vivid colors. Limoges collectors and gift buyers will be delighted with new styles as well as Beauchamp Limoges' Exclusive pieces.
The Beauchamp Limoges Spring Collection offers superior artistry and exquisite styles of hand-painted French porcelain boxes in this new collection. Each Limoges box is made entirely by hand, from pouring the porcelain paste into the mold, firing, hand-painting and metal hinges. Each and every Limoges box is crafted by Beauchamp's select master artists in Limoges, France. Every Limoges box bears the insignia of the artists as well as the designation "Peint Main" signifying that the Limoges box is painted by hand and "Limoges, France" as a guarantee of the Limoges being manufactured in the Limoges region of France.
Today's Limoges artists commissioned by Beauchamp Limoges create Limoges boxes as miniature masterpieces equal to those painted by the great French masters such as Monet, Renoir and Degas. Each Limoges box is a valuable work of art and a treasure to collect or a gift that will truly impress the recipient.
LimogesBoxCollector.com offers an extensive selection of Limoges boxes in every category and theme for every taste and budget. Special occasions such as birth of a baby, birthday, anniversary, wedding, holidays, graduation, vacation, etc. as well as any special interest such as music, art, gardening, sewing and so much more can be memorialized by a Limoges box. Animal lovers can find a fantastic selection of the Dog and Cat Limoges boxes as well as a variety of other animals.
For those who want to collect extra special pieces, the fantastic selection of Limoges boxes offered by LimogesBoxCollector.com includes a great collection of Retired, Hard-to-Find and Rare Limoges boxes that are no longer produced and thus are very valuable and greatly sought-after.
Especially of interest to avid Disney collectors is LimogesBoxCollector.com's large selection of Rare and Retired Walt Disney Limoges boxes by Artoria Limoges. LimogesBoxCollector.com is the only website offering these highly-sought-after pieces which include Mickey Mouse, Minnie Mouse, Donald Duck and other beloved Disney characters.
LimogesBoxCollector.com is the exclusive authorized dealer and distributor of Beauchamp Limoges boxes, a magnificent collection of high-end, hand-painted French Limoges boxes. The Beauchamp Limoges collection is also available wholesale to the trade. Jewelry stores, department stores, high-end gift shops and boutiques, just to name a few, can offer the magnificent Beauchamp Limoges boxes and Beauchamp jewelry to their customers. Also individuals and businesses can order quantities of personalized Limoges boxes for special occasions, events and corporate gifts at great savings.
Collectors and gift buyers always look for new styles and attractive designs. LimogesBoxCollector.com is proud to offer a significant selection of Limoges boxes to choose from. Every purchase is backed by 100% satisfaction guarantee and assurance of complete confidence when purchasing online.
LimogesBoxCollector.com continually adds new and original designs of Limoges boxes as well as retired and hard-to-find pieces in various themes. With every visit, customers always find a variety of new-arrivals to choose from and to enhance their collection.