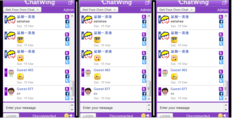 San Diego, CA (PRWEB) March 27, 2012
Health and lifestyle are considered as one of the most busiest and interactive industries today. Everyday, many people are searching for health topics, one web page after another. That is why many blog creators are tapping on these niches. Chatwing's latest widget release is ready to support health and lifestyle blogs by providing a new facet for online chat.
Chatwing has simple features and mechanics, but it can still compete with other free chat widgets. This is because of the fact that people love simple applications, compared to others that are really complicated. Chatwing is a stand-alone program—anyone can begin chatting in the Chatwing homepage. However, Chatwing's potential is more useful once it is embedded to any blog.
Embedding Chatwing has never been easier. First, the user must register his blog's domain name and set up an official account. After that, he can now begin customizing the appearance of the widget. Size of the widget can be adjusted by dragging the height and width sliders. The user can also pick colors and set the right hue. After that, he can opt to rename the widget. The last step is the actual embedding. Chatwing provides the needed HTML code.
The Chatwing shoutbox is useful for health and lifestyle blogs because it provides a medium of correspondence from the visitor to the blogger. Once a visitor is satisfied with a blogger's post, he can now express his reactions and opinions slightly. Chatwing also attracts visitors because of its unique avatars and emoticons.
The Chatwing chat box also features a social network log-in method. This means that people can log in using their Facebook or Twitter accounts. This improves the rate of connection because visitors can now exchange account information with ease. Health and lifestyle visitors will benefit from this because they will meet more friends and will have better opportunities of joining support groups. New users can visit Chatwing.com to start learning more about the basics.
About Chatwing.com
Chatwing.com has developed live chat software for websites and blogs. The Chatwing.com website offers users the ability to signup and create a customizable live chat feature in 1 minute or less. Users have the ability to customize the size, color, and fonts of the chat product. The ability to chat via social media accounts such as Facebook and Twitter enable Chatwing to offer a personal and unique real-time experience to all sites. Chatwing is 100% free web software.
http://www.chatwing.com
http://www.facebook.com/chatwing
http://www.twitter.com/chatwing