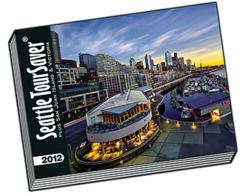 Seattle TourSaver team reviews all the activities, attractions and admissions--selecting the best for maximum savings.
Seattle, WA (PRWEB) March 28, 2012
Only the 2012 Seattle TourSaver® 2-for-1 travel savings book offers the best and brightest travel deals for Seattle--it also features exclusive 2-for-1 deals in Victoria and the San Juan Islands.
For pre-season savings, orders can be placed at just $59.95 for the Seattle TourSaver, which features dozens of 2-for-1 deals worth thousands of dollars. Check out all the deals online: Seattle TourSaver.
The Seattle TourSaver team reviews all the activities, attractions and admissions--selecting the best ones for maximum savings. The offers capture the "Spirit of Seattle" as well--TourSaver® wants visitors to have a great time and return often!
Check out the website and see the best of Seattle: flightseeing, whalewatching, food tours, scenic cruises, hotel stays and more!
Remember, everything in the TourSaver is 2-for-1. Here's a Top 10 List to show off some of the exclusive TourSaver savings now available:
1. Ride the Double-Decker Hop-on-Hop-off tour with Gray Line. This is a Seattle favorite--including stops at Seattle Center, Belltown, the Bell Street Pier, Pioneer Square and Pike Place Market. 2-for-1 ($35 Value).
2. Paddle into Elliott Bay and watch the Sunset with Alki Kayak Tours. The protected waters of the bay offer a serene setting for this afternoon paddle! 2-for-1 ($50 Value).
3. Argosy Cruises. The Seattle TourSaver features a choice of five cruises! One of our favorites is the Royal Argosy Dinner Cruise. 2-for-1 ($89 Value).
4. Evergreen Escapes Tour of Mt. Rainier. These naturalists offer a comprehensive tour of Washington's tallest peak. Waterfalls, snowfields, meadows and much more. Be prepared to be amazed! 2-for-1 ($195 Value).
5. Future of Flight/Boeing Factory Tour. Airline Geek Alert! This tour is worth the drive north from Seattle to Paine Field in Everett. You'll tour the plant where the all-new 787s are being built--and learn more about America's premier aviation manufacturer! 2-for-1 ($20 Value).
6. Hotel FIVE. It's the official downtown hotel of the Seattle TourSaver! All-new metro design reflects the urban spirit of Seattle, conveniently located on Fifth Avenue! 2-for-1 ($165 Value).
7. Kenmore Air. There is nothing like the view of Seattle from the air. Go flightseeing in one of Kenmore Air's pristine deHavilland DHC-2 "Beavers" from their base on Lake Union. 2-for-1 ($89 Value).
8. Victoria Clipper. Bring a passport and hop on board the fast catamaran right downtown--and zip over to Victoria, BC. Whether it's for the day or for the whole weekend, you'll love the trip--and the scenery along the way! 2-for-1 ($147 Value).
9. Belltown Restaurant Tour. No one goes hungry on this awesome "Progressive Dinner" tour. See some of the best restaurants in town with signature dishes prepared for guests along with paired wines! Don't miss this one! 2-for-1 ($59 Value).
10. Tillicum Village Salmon Bake Cruise and Show. Located on remote Blake Island, this tour includes a cruise from the Seattle Waterfront, dinner and a show. Fun! Learn more about the Native American history in the Pacific Northwest. 2-for-1 ($80 Value).
Just these 10 offers add up to $929 in savings. Use the Seattle TourSaver all year long for Seattle travel deals. Check the website for the entire list of deals--and start saving on your Seattle trip today!
Order online: Seattle TourSaver or in Seattle visit Argosy Cruises at Pier 59 and pick up a copy today for pre-season savings, just $59.95.