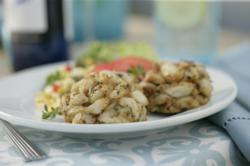 "We have deep experience sourcing, processing and shipping gourmet seafood. Our products are freshly made, frozen and can be shipped and received within 48 hours to 50 states." Ron Kauffman, President
Kent Island, MD (PRWEB) March 29, 2012
The Kent Island Crab Cake Company http://www.kentislandcrabcakes.com announces the expansion of its business to supply food service as well as retail and other business customers.
"We are ready to provide top quality blue crab cakes and other value added blue crab products to vendors up and down the East Coast," says President Ron Kauffman, Jr.
"Now more than ever, people want to know where their food comes from," says Kauffman. "Geographically, we're located in a key processing and distribution point on the Chesapeake Bay.
"And with the uptick in business in fine dining establishments, we believe now is the moment when restaurants and other food service operations will find our crab cakes a great addition to their menus."
Kauffman's Kent Island Crab Cakes has created award winning recipes developed by Margie Kauffman for the past twenty-five plus years. "We have deep experience in sourcing, processing and shipping gourmet seafood. Our products are freshly made, frozen, and can be shipped and received within 48 hours to any of the 50 United States.
"We're excited to bring Ron Sr. and Margie Kauffman, our parents, out of retirement and back on board with us," says owner Ron Kauffman of Kent Island Crab Cake Company. "Kent Island Crab Cake Company is a blue crab driven business. Margie has developed recipes and taste profiles that have been recognized and honored by Oprah Winfrey, Ladies Home Journal, Parade, and many other publications." Both Ron Sr. and Margie could be seen almost weekly on QVC for 13 years.
"We're all about eating seasonally and locally," says Kauffman, who is already creating buzz with his hand made blue crab cakes. We've been hand making crab cakes for retail customers for years, and with our new expanded facility, we are ready to service the wholesale foodservice industry. This is a natural extension of what we've been doing for retail and for the Kent Island Crab Cake Company. "
Both Ron Sr. and Margie Kauffman are strong advocates of this philosophy as well and will be relying on local watermen and chefs for their menu and new product inspirations. The Kauffmans have deep experience customizing products for private label and continue to sell private label products to some of America's largest catalog companies. They stand behind everything they produce and treat people like they want to be treated.
Kent Island Crab Cake Company, http://www.kentislandcrabcakes.com, located in the Chesapeake Bay on Kent Island, at 220C Log Canoe Circle, Stevensville, Maryland, 21666, welcomes visitors and is open Monday through Friday, 7 am to 3 pm. Call for more information, to order samples, place orders or receive our brochure: Ron Kauffman, Sr. 410-604-0043.