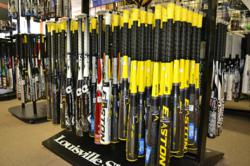 This Savannah sporting goods store provides only the best brands in baseball and softball equipment.
Savannah, GA (PRWEB) March 28, 2012
Thompson's Sport Shop is getting ready for another big baseball and softball season this year by offering some of the most prestigious names in baseball and softball equipment. This GA sporting goods store focuses on providing teams with high quality custom printed uniforms. However, Thompson's Sport Shop also offers a complete line of baseball and softball equipment that includes baseball pants, batting helmets, baseball bats, hats, cleats, gloves, and everything in between. The walls of this Savannah, GA Sports Shop are adorned with the top names in the game such as Nike, Louisville Slugger, Rawlings, Under Armour, and coming soon, Carolina Clubs, a unique line of baseball bats. This shop has everything that the team will need to have a winning season.
Baseball and softball season is here, and the leagues are starting to play ball. Thompson's Sport Shop has been busy preparing players, coaches, and umpires for the season and making sure that they are the one stop shop for all of your sporting needs. This Savannah sporting goods store provides only the best brands in baseball and softball equipment. They will have everything you need to outfit a tee-ball, softball, or baseball team for the entire season this year. They have sizes ranging from youth to college men's and every size in between. In addition to their large variety of baseball gear, Thompson's Sports Shop offers high quality custom uniforms to make sure that all teams will look great on or off the field.
Under Armour, All-Star, and Easton are just a few of the great brands that Thompson's Sport Shop uses for their GA custom baseball and softball uniforms. They have a unique process for screen printing uniforms and jerseys to ensure that each one is completely customized for their customers. In addition to screen printing, Thompson's Sports Shop offers custom embroidering to create one-of-a-kind logos for uniforms. They carry a wide selection of baseball pants, batting helmets, cleats, gloves, and baseball hats to complete uniforms; and also offer Letterman's Jackets and team award plaques to cap-off the baseball season. They have a great website that allows coaches to learn about all of the products that they offer for multiple sports teams.
Justin James, Manager at Thompson's Sport Shop, has this to say about the 2012 baseball season. "We want our customers to have the best selection of baseball gear, so we carry all of the major brands in baseball equipment and uniforms. We have a huge selection of bats, batting gloves, hats, and catchers mitts whether an entire team needs to be outfitted or just that tee-ball pro-prospect. When it comes to uniforms, Thompson's Sports Shop has the best quality, at prices that every team member can afford. We are the original Savannah sporting goods store and want to keep our customers coming back again and again."
Thompson's Sports Shop has been a top name in GA sporting goods for over 40 years. They take a lot pride in providing sports teams with everything that they need to have a great season from start to finish. This sporting goods store offers quality equipment not only for baseball, but soccer, football, softball, and cheerleading as well. They also have Letterman's Jackets and customized team award plaques available to order. To find out more about this great GA sporting goods store, or to order custom team uniforms and equipment you can reach them by phone at (912) 920-0977 or by email.