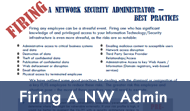 Companies are faced with all kinds of challenges – especially in the realm of personnel
(PRWEB) March 29, 2012
Information Security Assurance firm, Pivot Point Security, has updated its document, Best Practices for Firing A Network Security Administrator. The guide outlines good practices for dealing with the dismissal or resignation of a key IT / IS employee, to reduce these risks. (e.g., theft of confidential data)

Want to know how to fire a Network Administrator?
Need to know what precautions to take?
Firing any employee can be a stressful event. Firing one who has significant knowledge of and privileged access to your Information Technology / Security infrastructure is even more stressful, as the risks are notable. The greater the risk this employee and situation pose – the more of these practices needed to execute.
"Let's face it, times are tough!" says Mike Gargiullo, Sr. Security Consultant, "Companies are faced with all kinds of challenges – especially in the realm of personnel."
When discussing policies, procedures and standards with customers, Pivot Point Security consultants ask "What if you had to fire your security network administrator? The person who is in charge of the security of your systems"
Organizations can hope it never happens to them – but be prepared – by following these simple, common-sense tips – before, during and after.
The updated Best Practices guide can help a organization's network maintain its security – no matter who is monitoring it.
Best Practices for Firing A Network Security Administrator is segregated into four components:
Notable risks
Pre-firing activities
During firing
Post firing
The updated Best Practices for Firing A Network Security Administrator is now available free from Pivot Point Security.
About Pivot Point Security:
Continually evolving technology, business requirements, regulations, and threats make "being secure" and "proving you're compliant" increasingly complex. The only logical response: Simplify. Pivot Point Security makes it easier to prove that you are secure and compliant. For more information visit http://www.pivotpointsecurity.com.
###