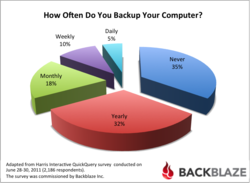 Over 94% of people don't backup their desktops and laptops even once a day.
San Mateo, CA (PRWEB) March 28, 2012
Backblaze today announced it is leading the charge in supporting World Backup Day on March 31st as the Presenting Sponsor of this seminal backup event. As an online backup service provider, Backblaze offers unlimited online backup for $5 per month per computer including their "Locate My Lost Computer" feature. The Backblaze sponsorship will help enable the World Backup Day message to reach millions of people worldwide, reminding them to backup the photos, videos, files and memories stored on their desktops, laptops, and external drives.
"World Backup Day 2011 was a great success thanks in part to Backblaze and we're thrilled to have them take a lead role in 2012," said Ismail Jadin, coordinator of World Backup Day. The audacious goal of World Backup Day is to have everyone backup their files, photos, videos – all their data – on that day. To help spread the word they have enlisted the help of social networking and community driven news sites such as Reddit. Erik Martin, General Manager of Reddit says, "Every PC or Mac user should backup their data so World Backup Day and Backblaze deserve a big upvote from the reddit community."
Today, over 94% of people don't backup their desktops and laptops even once a day and 35% have never backed up any of their files.[1] "Our goal is to have Backblaze be the easiest way to back up and restore the data for your PC or Mac," said Gleb Budman, Co-Founder and CEO of Backblaze. "It's a great feeling when a customer restores their "lost" files after a hard drive crash, computer theft or other mishap." Over 46% of Backblaze users have had to restore data from Backblaze in the past year.[2]
In addition to being a Presenting Sponsor, Backblaze is conducting a contest for World Backup Day. Anyone who signs up for a free trial of Backblaze online backup at http://www.backblaze.com/worldbackupday between March 26 and April 2nd, 2012 will be entered into a drawing to win a new iPad (3rd generation) or one of five free one-year subscriptions for Backblaze online backup with unlimited storage. Complete contest rules can be found on the Backblaze blog.
An Online Backup Resources Kit is available from Backblaze upon request. Additional information on how Backblaze works can be found at http://www.backblaze.com/internet-backup.html.
About Backblaze
Founded by a team of serial entrepreneurs with security, scalability, usability backgrounds, and located in the heart of Silicon Valley, Backblaze's mission is to ensure that all computer data is backed up. Backblaze was selected as a winner of the AlwaysOn Global Top 250 private companies for game-changing technology and market value. Backblaze provides a free trial and automatically backs up all data for just $5 per month per computer. Visit backblaze.com for more information or to backup your own computer.
[1] From an online survey conducted within the United States by Harris Interactive on behalf of Backblaze June 28-¬‐30, 2011 among 2257 respondents. In all surveys, respondents consisted of U.S. adult computer users (aged 18+), weighted to the U.S. adult population of computer users. No estimates of theoretical sampling error can be calculated; a full methodology is available.
[2] Derived from Backblaze records. Based on the number of active customers versus the number of unique customer restores over the previous 12 months.