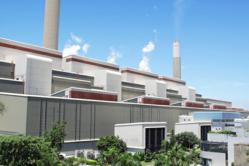 Cincinnati, OH (PRWEB) March 28, 2012
Using long range laser scanning in combination with 3 software platforms and Building Information Modeling (BIM), 3D Engineering Solutions created a clash detection simulation that highlighted interferences preventing replacement equipment from entering a Fortune 100 power plant. After calculating the interferences, engineers cut away concrete from a plant door and shifted two sections of high-power conduits measuring 2-feet in diameter. Riggers then moved in massive turbines, with only 4-inches of clearance on either side of the turbine crate.
3D Engineering Solutions combined use of SolidWorks—3D CAD design software; PolyWorks—point cloud manipulation software; and FARO Scene—scan alignment software—to generate the simulation and recommend which interferences to eliminate. "Our main focus was safety around the high power lines," said Rob Glassburn, Vice President of Operations at 3D Engineering. "Our long range laser scanning device captured precise measurements of the power plant as millions of data points, and then our software models allowed us to figure out a path for the turbines that would physically work."
The energy facility, originally constructed decades ago, did not plan on future expansion requirements of today's equipment size and scope. The replacement turbines that needed to be installed were too large to fit through the plant doors.
Project Manager Piet Swanepoel said, "The most difficult part of the project was the uncertainly. No one knew what the exact size of the turbine crate would be or how far away the crane would have to stand from the building. We accounted for the uncertainty of elements by setting up worst-case scenarios. We looked at the situation from all different angles using our software. We ended up with an established plan that went well." After interferences were eliminated, the turbines were moved into the building in about 3 hours. The plant never fully went offline.
About 3D Engineering Solutions:
Customers rely on 3D Engineering Solutions to design process tooling and fixtures for the automotive, industrial, green energy, nuclear and aerospace industries, using engineering tools such as Unigraphics NX7 Mach 3 CAD platform. Leading edge point cloud software, InnovMetrics PolyWorks, allows a common software platform for collecting data across all of Faro laser-based data collection platforms. In addition to reverse engineering services, 3D Engineering Solutions is registered with the State of Ohio for Professional Engineering and ISO 17025 Certified for third party inspection. In their seventh year of operation, the company maintains a state-of-the-art, climate controlled metrology lab, servicing the Midwest OEM needs for 3D laser scanning, data collection, 3D CAD modeling, FAI / PPAP inspection, and reverse engineering services. 3D Engineering Solutions brings more than 100 years of collective experience to every engineering project. For more information about structured light scanning or 3D scanning service or general information about 3D Engineering Solutions, call 513-771-7710 or visit the company's website: http://www.3D-engineering.net.