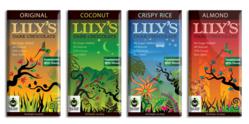 "Lily's bars are naturally 25 percent lower in calories than other 55 percent dark chocolates sweetened with sugar," said Chuck Genuardi, CEO and founder of Lily's.
Santa Barbara, California (PRWEB) March 28, 2012
Chocolate lovers everywhere have a new reason to celebrate their favorite indulgence. Lily's Sweets, an innovative new chocolatier, has announced the arrival of the first Fair Trade Certified, stevia-sweetened chocolate bars made with 55 percent cocoa. Made from the finest all-natural ingredients, Lily's bars are naturally 25 percent lower in calories than other 55 percent dark chocolates sweetened with sugar. Four flavors, Original, Crispy Rice, Coconut and Almond, are debuting in Whole Foods Market stores in March.
Offering 100 percent indulgence, Lily's 3-ounce (85 gram) chocolate bars contain no added sugar, no artificial ingredients and no GMOs. Lily's premium dark chocolate is sweetened with stevia, a natural sweetener that comes from the plant Stevia rebaudiana.
Also known as sweetleaf, stevia is 200-300 times sweeter than table sugar with none of the unhealthy characteristics. It does not raise blood sugar, it has virtually no calories, and it has been used to sweeten food and beverages around the world for centuries. Unlike other stevia-sweetened products, which can be overly sweet or bitter, Lily's proprietary blend of stevia, erythritol, inulin and dextrin - all naturally occurring plant-based sweeteners and fibers - gives the chocolate a uniquely smooth and balanced flavor.
With just 160-170 calories per half-bar serving, Lily's premium dark chocolate is an ideal treat for all chocolate lovers, including those watching their weight, as well as for diabetics looking for indulgence without raising their blood sugar. In addition to Lily's Original flavor, Lily's signature 55 percent dark chocolate is blended with organic coconut, organic crispy brown rice and dry roasted almonds to create Lily's Coconut, Crispy Rice and Almond chocolate bars.
Lily's Sweets chocolate bars feature a gold ribbon as a symbol of support in the fight against childhood cancer.
"Lily's Sweets' namesake is my niece, Lily, who in the midst of fighting childhood brain cancer, raised money to support services for children less fortunate than she," explains CEO and founder Chuck Genuardi.
In honor of Lily's bravery, the company donates a percentage of its profits to organizations that support childhood cancer survivors and fighters, such as Camp Cranium (http://www.campcranium.org).
"We hope to ease these children's burdens and bring them a bit of joy," says Genuardi. Lily's inspiring story can be found at http://www.lilyssweets.com.
Lily's Fair Trade Certified chocolate bars are available exclusively in Whole Foods Market stores at a suggested retail price of $3.99 per bar. Look for Lily's at other fine retailers beginning in May.
# # #
About Lily's Sweets
Lily's Sweets was co-founded by Cynthia Tice and Chuck Genuardi, both veterans of the natural products industry. Inspired to create a truly new category of chocolate, Lily's introduced the first Fair Trade Certified stevia-sweetened chocolate to the U.S. market in 2012. Lily's uses only the finest all-natural, non-GMO ingredients, including 55 percent genuine cocoa, and is committed to preserving the planet's natural resources for future generations. Lily's also gives back a percentage of profits to organizations that support children fighting cancer. For more information on Lily's Sweets products, visit http://www.lilyssweets.com or visit Facebook