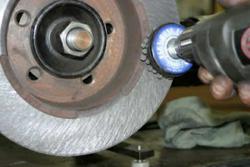 (PRWEB) March 28, 2012
For motorcyclists experiencing unwanted vibrations and noise while braking, Brush Research Manufacturing (Los Angeles, Calif.) is introducing its Flex-Hone Tool® for motorcycle brake rotors. This flexible brake hone is used to remove brake pad buildup and leave a smooth surface finish on brake rotors of motorcycles of all kinds, including street and track, supermoto, and dirt and off-road bikers.
Motorcycle brakes can vibrate if the brake rotors are warped or there is an excessive build-up of brake pad material on the face of the rotor.
During bed-in, bikers can expect the transfer of some material from brake pads to rotor faces. If the bedding-in process leaves a thin, uniform layer of brake material, the motorcycle will provide smooth, cleaning braking. If the build-up is excessive or has high spots, the motorbike will vibrate because the disc pads don't match the geometry of the brake rotors.
When this occurs, many mechanics or hobbyists will swap-out or true their motorcycle brake rotors and still experience front-end vibrations. If brake problems continue, however, an option is to clean the rotor using a unique motorcycle brake rotor hone called the Flex-Hone for Rotors.
The Flex-Hone was created by Brush Research Manufacturing (BRM) in Los Angeles, Calif., a manufacturer of honing tools, deburring brushes and other abrasive tool technology.
Flex-Hones are recognizable by the abrasive globules, sometimes called "dingle berries," mounted to nylon filaments. The Flex-Hone for Rotors uses this same technology in a new disc-like design that is better suited for rotor finishing.
The Flex-Hone for Rotors is available in three different grit selections (coarse, medium and fine). For motorcycles, the 240 grit is ideal for cleaning brake rotors, removing pad material, and giving rotors a smooth surface finish.
A good suggestion is to put the rotors on a brake lathe and set the RPM to about 150. Then chuck the Flex-Hone for Rotors into a 500-RPM drill and, working from outside to inside, apply for about 15 seconds. After allowing the brake hone and rotor to cool, repeat for a final clean-up for another 10-15 seconds. Finally, clean any residue out of the cooling holes and wipe the surfaces with brake cleaner.