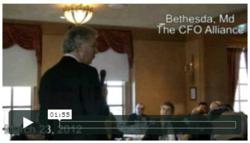 Our CFO Alliance Members are passionate about Healthcare.
Philadelphia, PA (PRWEB) March 28, 2012
The legal question being argued before the Supreme Court this morning bears a legal label that our CFO community knows well: "The Individual Mandate."
Certainly, it's a label that would appear to characterize the goal of so many of our CFO members, who are now determined to change the healthcare mind-set of their organizations. By empowering individual employees to make more of their own healthcare buying decisions, finance leaders are attempting to lower the healthcare costs of their companies by using consumer-driven principles.
However, rather than modify the behavior of individuals using the rule of law, our CFOA members are today adjusting premiums and introducing incentives designed with the rules of human nature in mind.
Today the CFO Alliance community is yielding the type of practical business insight and clarity of shared purpose that even the most robust legal systems are likely to achieve.