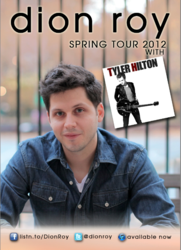 "Dion Roy's songs are great and we got to explore some really exciting sonic places! I'm super proud of what we've created here." Producer Steven Miller
New York, New York (PRWEB) March 28, 2012
New York City singer-songwriter Dion Roy is going on a U.S. tour with musician Tyler Hilton, who also stars in the hit CW Television Network series "One Tree Hill". The Spring tour will include stops at a dozen cities, including Philadelphia, PA (Tin Angel), Vienna, VA (Jammin' Java), Hamden, CT (The Space), and New York City (Rockwood Music Hall). Full tour schedule below (or click here).
During the tour, Dion Roy will be premiering tracks off his upcoming full-length album "Into The Day," with songs that range from upbeat pop/rock anthems to heartfelt acoustic guitar ballads. Known for his unforgettable pop/rock hooks and catchy beats, Dion's upcoming album won't disappoint fans of the singer-songwriter's earlier work, which includes his debut album "Gallery" (2009), his sophomore EP "The Nearest Light" (2010), which climbed to #8 on the iTunes singer-songwriter charts, and his most recent EP "Welcome Home" (2011). During the Spring tour, Dion will also be introducing his new fan club, "Team Full Hearts," giving his most ardent fans VIP access to his latest music and merch.
"Into The Day" (scheduled for release later this Spring) is Dion Roy's first collaboration with David Hodges, whose credits include working with Kelly Clarkson and Evanescence. The Grammy award winning songwriter co-wrote "Counting the Days," a moving power ballad featured in the new album. The album also marks Dion Roy's second collaboration with notable producer Steven Miller who has previously worked with famous artists like David Cook and Avril Lavigne. "Dion's songs are great and we got to explore some really exciting sonic places! I'm super proud of what we've created here," exclaims Miller.
Tyler Hilton, the tour's headlining act, is a skilled musician and actor, known for his emotionally resonant songs as well as his film and TV work, including the critically acclaimed Johnny Cash biopic "Walk the Line" (2005) and the beloved TV drama "One Tree Hill" where his role as Chris Keller earned him two Teen Choice Award nominations. Tyler will be celebrating the official release of his new album "Forget the Storm" with Dion on April 3rd at Rockwood Music Hall in Manhattan.
The 2012 Spring tour will be the second time Dion Roy and Tyler Hilton hit the road together and promises to be their best tour yet, solidifying their place as the most exciting singer-songwriters on the indie music scene today.
Saturday March 31st – Cambridge, MA @ The Middle East (Upstairs)
Sunday April 1st – Manchester, NH @ Boynton's Tap Room
Monday April 2nd – Hamden, CT @ The Space
Tuesday April 3rd – Manhattan, NY @ Rockwood Music Hall Stage 2
Wednesday April 4th – Boonton, NJ @ Canvas Clash
Thursday April 5th – Long Island, NY @ Ollie's Point
Saturday April 7th – Hoboken, NJ @ Maxwell's
Monday April 9th – Philadelphia, PA @ Tin Angel
Wednesday April 11th – Vienna, VA @ Jammin' Java
Thursday April 12th – Charlotte, NC @ Double Door Inn
Tuesday April 17th – Athens, GA @ 40 Watt Club
Thursday April 19th – Birmingham, AL @ Moonlight on the Mountain
Friday April 20th – Duluth, GA @ Red Clay Theatre
Visit DionRoy.com or Facebook for an up-to-date tour schedule.
Interact with Dion Roy on Facebook and Twitter.
For all inquiries, please email Termeh Mazhari at Termeh(at)AMP3pr.com.