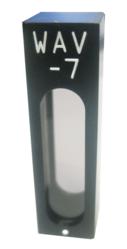 The didymium glass filter will definitely meet the growing needs of today's laboratory scientists with very precise wavelength calibration standards that are easy to use.
Farmingdale, NY (PRWEB) March 27, 2012
NSG Precision Cells is proud to announce their latest wavelength calibration standards for spectrophotometers. The new WAV-7 Didymium Glass Calibration Standard is a unique stand-alone product on the market that never needs replaced or re-calibrated due to material aging.
This innovative filter supports wavelength calibration precision of spectrophotometers in not just the ultra-violet (UV) and visible (VIS) range but also photometric accuracy at 5 wavelength points in the UV range.
Likewise, based on NIST standards the Didymium Calibration Standard not only meets the requirements but it holds the NIST-compliant benchmark Calibration Certificate issued by the NRC Institute for National Measurement Standards, Government of Canada.
In today's laboratory, having spectrophotometers that meet high standards is vital for precise calibrations. Equally, if wavelength calibration is incorrect then a laboratory not only has inaccurate analysis buy they have financial loses. Furthermore, the accuracy of a spectrophotometers wavelength scale is essential for procuring absorbance readings of a laboratories sample. In truth, less than 1 nm can cause an instruments reading to change and thus produce false data.
Testing the wavelength calibration of a spectrophotometer is necessary for accurate analysis. Additionally, calibrating wavelength accuracy can be quite expensive. Since verification performance for spectrophotometers is mandated by many agencies, calibration costs can accumulate rather fast. In addition, there are also premium fees for UV/VIS calibration standards.
Since didymium filters are rather a new technology there are only a few companies that make them. Moreover, finding a company that is qualified in the field is almost impractical. Yet at NSG Precision Cells, spectrophotometry is their expertise along with over 50 years' experience in the silica industry.
NSG Precision Cells is highly experienced in forging, constructing and fine tuning superior products like spectrophotometers and numerous types of filters such as didymium filters. In fact, the didymium glass filter will definitely meet the growing needs of today's laboratory scientists with very precise wavelength(s) calibration standards that are easy to use. Additionally, NSG provides full support even after acquisition.
Each Didymium Calibration kit is supplied with instructions on how to properly use calibration standards, a NSG Precision Cells Unique Lifetime Warranty and a Certificate of Calibration. As well, the NSG calibrations are provided with 2 nm slit-width. Because measured wavelength peaks depends on the user's spectrophotometers slit-width (spectral band-pass) we offer a special calibration kit customized to the desired slit-width for an additional charge.
The WAV-7 didymium filter combines wave length accuracy with photometric calibration. It includes NIST-compliant picks' values and NIST-compliant absorbance values. The wave length accuracy for picks' values includes 329 nm, 472 nm, 512 nm, 681 nm and 875 nm. Likewise, the photometric accuracy for absorbance values includes 270 nm, 280 nm, 300 nm, 320 nm and 340 nm.
Didymium glass filters come with a wide range of benefits and features to fit your laboratory needs. Some of the advantages of didymium filters are as follows:

Unique material-formation for optimal performance
Never needs to be recalibrated due to material aging
NIST compliant plus NRC-Canada compliant and traceable
Nano-deposition proprietary manufacturing process assures unmatched stability
Wavelengths calibration picks plus NIST photometric absorption data for 5 wavelengths
Per every calibration standard a wavelength/absorption trace-file with 0.1 nm step is provided
With the growing challenges of continual new processes for analysis it is essential to have the newest technology to ensure accurate readings. At NSG Precision Cells, we provide the latest innovative products to meet the demands of spectrophotometry analysis. The didymium glass filter not only saves valuable time and money in wavelength calibration it also offers solutions for today's growing laboratory standards.
About NSG Precision Cells
NSG Precision Cells, Inc. was founded in 1958 and has been growing ever since. NSG Precision Cells, Inc. is a well established, highly regarded quartz manufacturer and we specialize in the manufacturing of quartz flowcells, quartz flow channel cuvettes, quartz microchips, quartz cuvettes, and other quartz optical products.