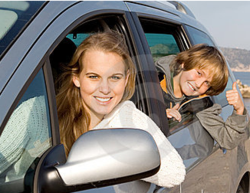 "We have found "Adventures in Wisdom" to be a wonderful additional stepping stone to the lessons we are striving to convey. Thanks for creating a program that is so positive and easy to integrate into our lives!
Austin, Texas (PRWEB) March 29, 2012
"Stop touching me", "Are we there yet", "Mom, he won't stop…" These are common sounds coming from the back seat of cars across America as frustrated parents referee their children's arguments. Adventures in Wisdom™ announces a unique mentoring program that enables parents to shift from "referee" to "coach" while in the car.
"Car time is a great time for parents to engage their children in meaningful conversations," shared Renaye Thornborrow, author of the Adventures in Wisdom mentoring program for kids. "The program uses 27 fun short stories to teach valuable life skills not taught in schools. Kids learn how to develop a mindset for happiness, confidence, and success in life which include skills such as learning how to: think for yourself and make good decisions; stand up to peer pressure, develop self-esteem that doesn't rise and fall with the ups and downs of life, manage mistakes and failure; live life with intention and achieve your goals; and much more."
The audio version of the program is perfect for busy families that are constantly on the go. It uses a very modular format with each of the audio segments lasting about 5 to 15 minutes - perfect for those treks to and from practice, games, school activities, and errands. For example, families can listen to one of the stories on the way to practice and then discuss the lesson on the way home. It's a great way to turn dull drives into meaningful "connection time".
The toolkit is available in both print format (PDF downloads) and audio format (either MP3 downloads or CD set). Parents can download one of the lessons for free by going to http://adventuresinwisdom.com/sign-up-try-it-free/#.
About Adventures in Wisdom
Based in Austin, Texas, Adventures in Wisdom is a breakthrough life coaching program for mentoring kids that uses short stories and activities to teach children ages 6-12 how to develop powerful self-esteem and self-confidence; achieve their goals; handle challenges such as fear, failure, and peer pressure; and create happy fulfilling lives. Kids learn over 25 personal development skills via skill books or audio programs that can be completed while at home or in the car. For more information call 860-580-WISE or visit http://AdventuresInWisdom.com.