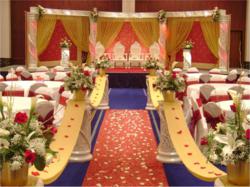 This is so much more convenient than flying back-and-forth to home country
New York, NY (PRWEB) March 28, 2012
Pure Elegance has been chosen as the exclusive bridal-wear designer at My Wedding Lounge, America's first all-inclusive wedding center for South-Asian couples. My Wedding Lounge is located in the heart of New Jersey and offers an entire range of wedding related services to the couples and their families, all at one location and under one roof.
As the Indian diaspora has grown in size and affluence in US, so has the wedding market. South-Asian weddings are getting bigger and more grandiose; celebrations often continuing for many days. Indian wedding fashion market has grown rapidly to over four billion dollar in size globally. Couples and their families make frequent trips to their home countries, shopping for the right outfits for the special day. This approach is not only very expensive but also very stressful and inconvenient.
"We are proud to be chosen as the exclusive bridal-wear vendor at My Wedding Lounge", said Parna Ghose, Chief Designer and President of Pure Elegance. "My Wedding Lounge provides a luxurious environment and an array of carefully-chosen, high-quality wedding vendors to the couples and their family. This takes out the entire stress of finding and meeting vendors and planning all the activities for the Big Day. My Wedding Lounge has an ideal ambience for couples to plan, choose or customize all their needs including fashion and style. This is so much more convenient than flying back-and-forth to home country" added Parna Ghose.
"We are happy to have Pure Elegance as the bridal-wear vendor", said Sam Jain, President of My Wedding Lounge. "Pure Elegance already has a strong reputation in serving South-Asian community in US. We have selected Pure Elegance not only for their exquisite designs, flawless craftsmanship and innovative styling but also for their ability to customize and create great value that today's brides need", added Mr. Jain
About Pure Elegance
Pure Elegance is a fashion brand created by designer Parna Ghose, an internationally recognized designer based in Philadelphia. Parna Ghose has been invited to many major international fashion shows and has dressed many beauty pageants, international models, Bollywood celebrities and other dignitaries. Pure Elegance makes exquisite ethnic couture and ready-to-wear western designs for fashion-conscious women worldwide. The hallmark of their haute couture style is in its original designs, flawless craftsmanship and innovative styling that brings out the individuality and exuberance through unique, unforgettable pieces. Since its inception, Pure Elegance has enjoyed huge loyal fan following and, with over 60,000 Fans on its Facebook page, it is the fastest growing brand for South-Asian fashion.