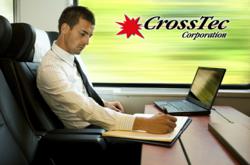 SchoolVue's capabilities reduce costs and offer remarkable assets to the administrators and teachers, as well as in student collaboration.
Boca Raton, FL USA & Athens, Greece (PRWEB) March 28, 2012
CrossTec Corporation announces today that Athens, Greece based Akeydor Limited, a software reseller for CrossTec's Remote Control Software, IT Asset Management Software, web based Help Desk software and SchoolVue Education Software, is planning an upcoming relocation of their corporate headquarters from Greece to the United Kingdom.
Akeydor Limited is one of the largest multinational CrossTec Software distribution partners, specializing in Remote Control, IT Asset Management, Help Desk and Education Software. Akeydor has had proven success promoting CrossTec's Remote Control Software to the telecommunications and banking sector, as well as their ResQDesk help desk software to support companies. Akeydor also offers CrossTec's EMS IT Asset Management Software which boosts inventory with software distribution, metering and license management. Akeydor's most recent goal is to increase the market share of CrossTec's and best of breed education software, SchoolVue, for e-classroom management and corporate training within organizations.
Akeydor has recently participated in the Athens Education Show on March 2-4 in Athens Greece, where several institutions exhibited their products and services. SchoolVue was the primary focus of the Akeydor exhibit at the show. Additionally, Akeydor exhibited CrossTec's SchoolVue in the GESS Dubai Education Exhibition on February 28 – March 1st. Several education vendors spoke about SchoolVue and its remarkable features in education and corporate environments.
"Akeydor Limited has undertaken a major step in modernizing the assets of universities, colleges, training centers, and corporations. SchoolVue's capabilities reduce costs and offer remarkable assets to the administrators and teachers, as well as in student collaboration. SchoolVue's Tech Console has been a major feature for technical support agents to assist their teachers and students while they collaborate with each other. No other Education and Classroom Management Software offers today what SchoolVue can do for schools," says Michael Chatzilias, Director of Akeydor Limited.
CrossTec currently partners with Akeydor for product distribution in Greece, Germany, and the Middle East regions, specifically the UAE, Oman, Qatar, Bahrein and Saudi Arabia. Akeydor's upcoming relocation will help them expand their reach and offer CrossTec's award winning product lines to other parts of the world. More information about the relocation is coming soon.
For more information about Akeydor Limited, please visit http://www.Akeydor.com
About CrossTec Corporation:
CrossTec Corporation is headquartered in Boca Raton, FL with offices in Grand Rapids, MI. They have been a leading provider of software solutions for schools since 1996, including the award winning CrossTec SchoolVue brand of classroom management software. CrossTec's mission is to empower IT departments, teachers, and tech coordinators by offering a combination of education-tested products, substantial feature sets, superior value, and unparalleled customer service. For more information on CrossTec Corporation or the CrossTec family of products or to speak to a product representative, please call 800-675-0729 or visit http://www.crosstecsoftware.com.