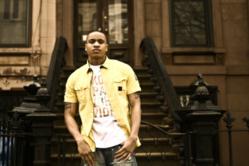 New York, NY (PRWEB) March 28, 2012
AKOO Clothing is pleased to announce Rotimi as their 2012 brand ambassador. The breakout talent of "BOSS," a STARZ original series, channels the mysterious allure and boyish charm of his on-screen alter ego to depict AKOO's Spring/Summer theme of "effortless cool." Named by Rolling Out Magazine as "Hollywood's Next Triple Threat," the actor, singer/song writer and model is leading a new era of game changers.
"Rotimi is the perfect choice for this season's campaign. He is a rare talent who embodies AKOO's mantra of self mastery as he continuously strives for excellence in his artistry," says Director of Marketing & Public Relations of AKOO Clothing, Jeff Belizaire.
Rotimi has also received praise for his recent music projects, "The Resume" and "While You Wait." Dubbed "The Jack of All Trades" by BET.com, Rotimi's music credits include performances alongside headliners Jennifer Hudson, T.I., Estelle and NERD.
"I'm very excited about working with Rotimi. The young man has a bright future and I am proud to be connected to his growing success. Its young men like him who I had in mind when creating AKOO," says Grammy award winning artist, music and film producer, song writer and actor, T.I.
AKOO Clothing is a contemporary collection designed for men of exceptional style, character and creativity. The mission of the AKOO Movement is to encourage self mastery within oneself. Supporters of the brand and movement include Larry King, B.o.B, Curtis Granderson, Tristan Wilds, and Meek Mill. AKOO has been featured in national print publications including GQ, who named AKOO's founder T.I., one of the "10 Most Stylish Men in America."
Join the #akoomovement on Twitter: @akooclothing, @akoomarketing, @tip, @Rotimi.
ABOUT AKOO Clothing
AKOO, an acronym for A KING OF ONESELF, is a men's contemporary clothing line that exudes a unique sense of elusive style that is versatile to one's own lifestyle. AKOO, was founded by Grammy award winning artist, music and film producer, song writer and actor, T.I., and his business partner and Grand Hustle Entertainment CEO, Jason Geter. For more information on AKOO Clothing, visit Facebook via http://www.facebook.com/akooclothing.