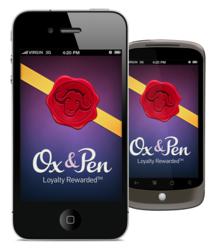 By offering consumers universal rewards via convenient mobile app, we have the ability to drive repeat traffic and social engagement for our partners.
Chicago, IL (PRWEB) March 29, 2012
Chicago startup Ox&Pen, the universal loyalty network of local, specialty merchants, reached a significant milestone this week with its Chicago soft launch. The first mobile-based loyalty program of its kind, Ox&Pen awards members for repeat visits and social engagement with loyalty points that can be cashed in for rewards at any merchant in the network. Members also have unlimited access to numerous exclusive promotions that cater to specific interests.
This distinctive network is designed to help local business owners attract and retain customers by offering relevant promotions and valuable loyalty rewards. Ox&Pen has also released a mobile app, available for iPhone and Android devices.
"Ox&Pen creates a sustainable marketing model for local shop owners," commented Ox&Pen founder and CEO Andrew Gluck, "By offering consumers universal rewards via convenient mobile app, we have the ability to drive repeat traffic and social engagement for our partners."
Prior to the soft launch, Ox&Pen grabbed the attention of some of Chicago's most talked about eateries, retailers and service providers. Merchants featured in the soft launch include Vera, Primitive, Roots Pizza, Leopold, The Fifty/50, Krista K Boutique, Bleeding Heart Bakery, Armando Pedroso Fine Art and Spitcurl Salon.
Universal loyalty rewards make it easier for Ox&Pen members to shop and dine at independent, neighborhood merchants, an increasingly popular pastime. Traditional loyalty programs for smaller merchants involve a customer making five or 10 purchases before receiving a reward. If a customer is unlikely to make those purchases, the loyalty program carries little weight in retaining that customer.
With Ox&Pen, however, accrued loyalty points can be redeemed anywhere in the network, so the customer has greater incentive to shop at any Ox&Pen merchant knowing points earned are good toward a reward at another merchant in the network later on.
Loyalty Rewards
Members have the opportunity to earn points by making full-price purchases, inviting friends, checking in, or writing a review of an Ox&Pen merchant. Earned loyalty points are redeemable network-wide. Or, if a member chooses, points can be donated to one of Ox&Pen's charitable partners.
Promotions
Unlike daily deal sites, Ox&Pen offers hundreds of promotions that require no upfront purchase or printing of a voucher to use. Members can browse and redeem at their leisure. For an optimal user experience, promotions are redeemable via mobile app.
Merchants using Ox&Pen's platform are able to self-manage promotions and rewards, monitor resulting traffic and revenue, and optimize each campaign to best fit their needs.
About Ox&Pen
Ox&Pen is the Chicago-based, smartphone-driven universal loyalty network of unique, local merchants and the people who love them. At this time, membership is free, and members have unlimited access to exclusive promotions and loyalty points redeemable with any Ox&Pen merchant. Limited time offers are available for merchants and members. For more information, find Ox&Pen on Facebook or visit http://www.oxandpen.com.
# # #